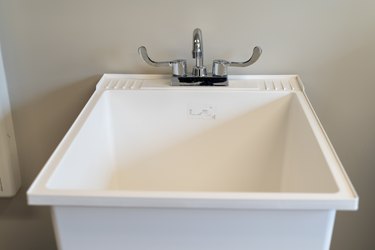 You may have a slop sink, sometimes referred to as a laundry sink or utility sink, in your laundry room or garage. They are great for filling a bucket, rinsing out a mop, soaking laundry or even giving your dog a bath. It may get dirty, rusty or discolored over time. While the cost to remove a concrete laundry tub is relatively inexpensive, re-painting is a more cost effective option to give it an upgrade. Concrete tubs can also be very heavy due to their large size and material, which can make removing it a challenging do-it-yourself project.
Laundry Sink Spray-On Paint
Spay-on options are quick and relatively easy to apply. The Washington Post recommends using Krylon Fusion for Plastic and Rust-Oleum Paint for Plastic. These paints should stick to most hard plastics and should be effective for fiberglass composite, polypropylene and acrylic. Slop sinks can be made out of various materials, so check what you have before starting the project. The Washington Post cautions that the paint may not bond as well on rubber, vinyl or polyethylenes with an oily surface.
The are several factors to keep in mind when using spray-on paint. First, the paint can land around and behind the sink. Be sure to completely cover all areas around the sink. Second, always wear a mask to prevent breathing in the paint and wear goggles to protect your eyes.
Use Garage and Car Paint
If you have a concrete utility sink, Shorewest suggests spraying Rust-Oleum paint on the pipes and base floor stand. They recommend using Rust-Oleum Epoxy Garage Floor One Car paint. You can also add a sprinkle effect for added detail if desired.
Let the paint dry for 24 hours. Next, add a Clear Coat One Car kit to preserve and seal the paint. Follow all the directions in the kit. Shorewest recommends doing this project in the summer since the concrete will be warmer and easier to paint.
This method may be a good weekend project since it takes more than one day. The sprinkles or speckles give the sink a little more color and can even resemble faux marble or granite. This fun detail can give your sink some added style.
Use Brush-On Paint
Brush-on paint options are another way to go and are a little cleaner in their application. The Washington Post suggests using Rust-Oleum Specialty Plastic Primer. It is a brush-on paint that bonds to plastic, that way you can use standard paint as your topcoat. You can select a concrete laundry tub paint in a color of your choice. Cover the floor to avoid any drips or spills.
Choose the best painting method for your timeline and design needs. A fresh coat of paint can give your laundry room or garage a much needed upgrade on a small budget.