Things You'll Need
Wire brush or broom

Brick cleaner (optional)

Sealant

Sprayer or paint roller

Goggles
Tip
Avoid letting sealant puddle on brick surfaces.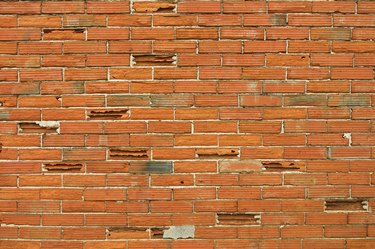 Over time, unsealed bricks will begin to look dingy or dirty, especially if they are laid in a high-traffic area or near a fireplace. Cleaning the bricks will get much of the dirt off so they look like new again. But to keep them in that condition, they will need a protective sealant. If a shiny, wet look is desired, using a high-gloss sealant should do the trick.
Step 1
Clean bricks with a wire brush or broom and some water. Give them a good scrub, then rinse the area with water. If there's soot on the bricks from a fireplace, add a few drops of dish soap to the water. Extremely tough stains might require a light sanding. Allow bricks to dry completely before moving on to the next step.
Step 2
Choose between water-based and oil based mixtures. The oil-based dries faster, but the smell is strong and clean up requires a paint thinner. With a water-based mixture, drying time is longer. However, you don't have the smell and all that's required for clean up is soap and water.
Step 3
Apply sealant with a concrete sprayer used for thick sealants, or with a paint roller if the area is smaller. With roller, coat the bricks uniformly, keeping each stroke going in one direction, if possible. The coat should adequately saturate the brick surface. Do not apply too thinly, or sealant may not adhere correctly.
Step 4
Wait at least a half hour for first coat to thoroughly dry before applying a second coat. Do not worry about air bubbles while applying the sealant. Most will disappear as long as the first application went on thickly enough. Apply the second coat, running the roller in the opposite direction. The second coat will deepen the wet look on the bricks.
Step 5
Allow sealant to cure, or harden, for at least seven days before setting anything on the surface.
---
Jackie Castle has been writing stories and devotions since 1998 and has contributed to the Focus on the Family magazine. Castle holds a Bachelor of Science in rehabilitation counseling from the University of Texas Southwestern Medical Center at Dallas. She also holds a teaching certification.