Though fluorescent lighting is frequently used in commercial buildings, hospitals, schools, restrooms and even in the home, it is considered some of the harshest lighting there is other than standing in the full sun or the glaring light of day. While fluorescent lighting is cheap and energy efficient, it can bring out the flaws on even the most attractive person. Look for creative ways to dim the harsh lighting effect of fluorescent without sacrificing your utility bill.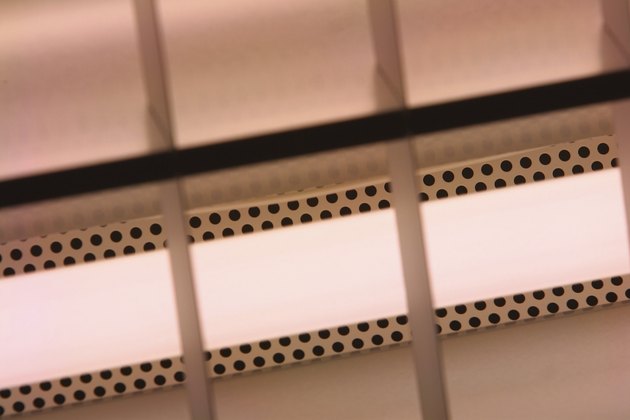 One option for hiding fluorescent lighting is to cover it with assorted colored sheets and fabrics. Select fabrics that are on the sheer side so the lighting in the room doesn't become too dim. Use tacks to keep the covers in place, and hang them loosely to get a "draping" effect, which will also prevent the fabric from getting burned from too much heat. Cover each fixture with a different colored sheet, or use the same color for all fixtures to create a specific lighting effect.
Hang assorted sheer paper, such as rice paper, over the fluorescent fixtures. As with the colored sheets, hang the paper loosely over the lights to avoid creating a fire hazard. Attach the paper around the fixtures with tacks, using one large sheet of rice paper per fixture, or layer the rice paper with different colored tissue paper to create an array of different light colors. You also have the option of hanging the paper in an extremely loose fashion with bunches of colored tissue paper arranged within the rice paper.
Decorative light panels are another option in terms of hiding fluorescent lighting. Such panels are often available in a variety of styles, such as blue sky and clouds, including even different cloud types such as cirrus, cumulus and stratus clouds. Other options include sky and clouds with assorted greenery, such as palm trees, or sky and clouds featuring hot air balloons or kites. Other options include panels that feature a stained glass design, stone marble design or floral design.
Other options for hiding fluorescent lighting are simply not to use the fixtures at all. Instead look for a variety of interesting floor, table and hanging lamps that will provide the room with enough lighting without resorting to using the fluorescent lights. Lamps disperse light throughout a room softly rather than the severe overhead lighting that fluorescent lights provide. Use two or three lights per room, depending on the room's size.