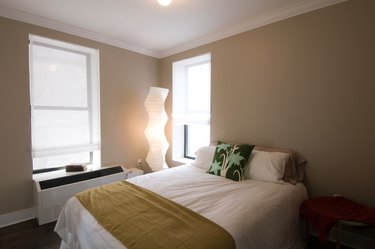 From your bathroom to your bedroom, textured walls add a visual appeal. A rough, rich texture hides flaws, creates a timeless and aged look, and decreases sound levels in your home. Now that the texture is applied to your wall surfaces, its time to choose the correct color. Understand the right colors for rough textures to create your perfect, ideal home environment.
Dark Colors
Dark colors bring walls closer to you, and create the feel of a small cozy space. Still, when painting textured walls it is critical to first apply a primer made for dark colors. Many paint stores sell a grey primer. Often only one layer needs to be applied, even on textured surfaces. Next, roll on your dark color, such as burgandy, bright reds or navy blues, over the primer. You will notice you will only need to apply one or two layers of your colored paint over your texture. If the primer is skipped, and your walls are heavily textured, you may need to apply up to five layers paint.
Colorwashes
Color washes are idea for textured surfaces. This faux finish mixes together clear glaze often with dark umber paint. The base coat of the walls is often a light ivory color in an eggshell or higher sheen. A wall painted with a flat sheen base coat will not work. A glaze is applied with a variety of simple tools from paint rollers, brushes, plastic bags and sponges. When applied, the entire surface is covered with the glaze mixture. Next, dab the wall with a soft terry towel. You will absorb some of the glaze, but also push additional glaze into the crevices of the plaster. The final finish is an aged and distressed wall. The texture will visually pop out and become more apparent.
Light Colors
Texture painted with a light color opens and expands a room or ceiling. The texture becomes less noticeable, but continues to give a comfortable feeling to a room. Light colors are ideal when accessories, decor and furniture include bright colors. Light colors may also be used in more earth tone rooms rich in light greens, browns and yellows.
Sheen Level
Ideally, plaster should be painted with flat, eggshell or satin sheened paint. Avoid flat paint if you plan on adding any type of glaze or color wash topcoat over the surface. Still, be aware plaster painted with a high gloss may have too much reflection and glare on the surface to appreciate the texture finish. The final look may result in a very plastic or fake look. Always create plaster boards with your desired texture and colors before painting your walls.