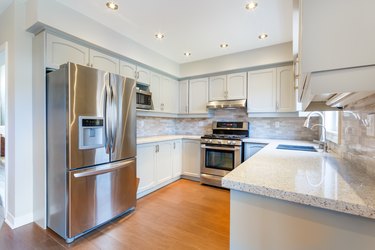 When stainless steel appliances first rolled out decades ago, the look was preserved for expensive kitchens. The industrial look and feel gave the appliances a sense of being high-end for serious chefs. Stainless steel has since made its way to most kitchens, mixing with appliances of all colors and finishes. Typically, the stainless steel from each manufacturer will vary, creating a slightly different color or finish between a stainless steel GE refrigerator and a Whirlpool dishwasher.
If you have different stainless steel finishes on appliances and are curious about which finish to work with when choosing a new appliance to mix with the current residents of the kitchen, then get to know the pros and cons of each. A white appliance will always be classic, while the newer stainless steel fingerprint-resistant finishes are easy to clean and offer a high-end look at an affordable price.
Black Stainless-Steel Appliances
Bold, contemporary and pleasing to look at, black stainless steel appliances have been rolled out by nearly every manufacturer of kitchen appliances. Shining and lustrous, black stainless steel appliances have been a popular choice since entering the kitchen decor market just a few years ago. An added benefit of the black stainless steel finish is that they are generally easier to clean and don't require much to keep them shining and smudge free, according to Consumer Reports.
However, each manufacturer has just a little different shade that can be off-putting for those who are truly particular about matching their appliance colors. If matching is important to you, then it may be beneficial to stick with the same manufacturer of all of your appliances when choosing the black stainless steel finish.
Uncoated Stainless Steel
It is highly durable and resists scratches and corrosion, but uncoated stainless steel requires a little attention to keep it gleaming. The difference between uncoated stainless steel vs. fingerprint-resistant stainless steel is actually important. Most uncoated stainless steel appliance fronts will become dingy from a buildup of greasy fingerprints and oily smudges but won't get scratched by magnets or sharp objects in a busy kitchen.
Because it is uncoated, it can get dirty fairly quickly. While a fingerprint-resistant stainless steel finish can be shined up with a soft cloth and maybe a little soap and water, an uncoated stainless steel finish needs a little more work. A stainless steel cleaner can shine up the durable finish. There are many commercial cleaners built to wipe up spilled sauces that have hardened while also polishing the surface of the stainless steel.
White Appliances Vs. Stainless Steel
Some say dull, others say classic, but no matter what you think of them, white appliances are here to stay. White appliances remain a popular choice for homeowners for their style and the fact that they are easier to clean than their stainless-steel counterparts, according to House Logic.
From GE to Kenmore and Whirlpool, manufacturers are pushing out gleaming appliances with crisp white finishes. Designers find them to be chic and offer a classic look to an all-white kitchen. They are warm and work well with wood or metal cabinet choices. White appliances can make a statement and can bring a kitchen with a mottled mix of different stainless-steel appliances together to be aesthetically pleasing.