Tip
Be enthusiastic in your video, and show your sense of humor! Choose a room that is big enough for "HGTV'd" to create a dramatic design for it.
Warning
"HGTV'd" accepts submissions on an ongoing basis, but they travel around the country on a schedule, so apply as quickly as possible. If they come to your area before you get your application in, you'll miss your chance.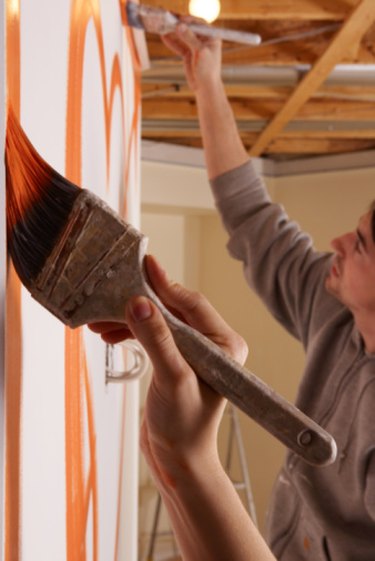 In each episode of "HGTV'd," a family gets a surprise home makeover from an HGTV designer. To be a contestant for an HGTV home makeover, you must submit an application video. This video serves as an audition, and the decision-makers at HGTV take both your home and your personality into consideration. You're in this for a home makeover, but HGTV is casting a television episode, so your application should be as engaging as possible.
Planning
Step 1
Choose a room. "HGTV'd" will only remodel one room, so choose the space that is the best fit for the show. Large, family-oriented rooms that need design changes, not structural changes, are the best candidates.
Step 2
Note what you want to change. What are the worst parts of the room? Why doesn't the current design work for you? Be specific.
Step 3
Note why you should get an HGTV home makeover. What makes your family deserving? What makes you interesting? Find details that will make good television.
Step 4
Take a few pictures of your least favorite parts of the room and of the areas you think are the room's best features, too.
Video Application
Step 1
Prepare to make an audition video. Recruit a friend to hold the camera. That way, the whole family can be together in the video.
Step 2
Record your application video. It should be three to four minutes long and show your personality as much as possible. Introduce yourselves first, name your favorite HGTV shows and designers, and then show the room you've chosen. Include your notes about what you want to change, any thoughts you have on what you'd like instead, and why you should be selected. Name your favorite HGTV design personality, so "HGTV'd" knows who to send to your house.
Step 3
Fill in the "HGTV'd" application form at my.hgtv.com/hgtvd/editupload.esi. Click the "Create Space" button at the bottom when you've finished.
Step 4
Upload your application video and pictures on the next page. You will then have the opportunity to share your application with your social network if you want to.