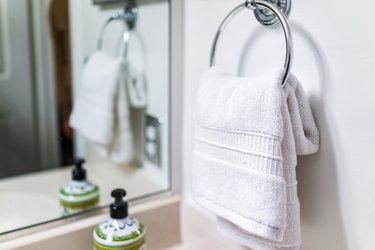 There are plenty of times when it's perfectly fine to stand back and eyeball where to hang or mount things, but eyeballing the installation height for towel rings isn't advised. It's a bit trickier since the towels dangle below, and there are logistics involved, like toilets and vanities. Luckily for you, there's no shortage of advice on recommended bathroom accessory installation, and you won't need your guesstimating powers on this project.
Building Code for Towel Rings
There are no towel height cops or building inspectors that'll crack down on you if you install your bathroom towel rings in some strange position. You're free to inconvenience yourself by just winging it, but it's nice to take a measured approach. When it comes to advised heights for things like towel rings and towel bars, there are generally industry-accepted standards that have evolved from consumer feedback, studies and use.
The National Kitchen and Bath Association comprises retailers, designers, architects and other industry professionals, and they've got a book of guidelines for accessibility and livability through design.
Many of their design recommendations incorporate the latest design advisories from the Americans with Disability Act's guidelines.
Towel Rings Aren't Towel Bars
Don't make the mistake of thinking towel bar installation advice applies to towel rings, because their designs are different. Towel bars are longer and should go on a wider wall. Towel rings are great for compact spaces, especially for hand towels hung over vanities.
The towel hangs below the mounting hardware on rings, but sits at the level of hardware on bars, meaning they should be mounted at different heights. Keep in mind, a towel folded widthwise should be able to hang on it without dragging on the floor.
Towel rings customarily are installed close to the sink, with experts recommending just a few inches from the sink to keep life simple and accessible. Traditionally, people hang their guest towels on rings by the sink.
Recommended Towel Ring Heights
So, according to accepted industry practices, the perfect height to hang a towel ring is 50 to 52 inches. Over a vanity, the bottom of the towel ring should sit 16 to 18 inches off the top of the countertop, so the towels suspend freely above it.
Got Kids? Hang Rings Lower
If you've got kids or vertically challenged folks in the house, hanging towel bars and rings a little lower can be helpful. For 3- to 4-year-olds, hang the towel ring so the ring sits at 36 inches off the floor. For 5- to 8-year-olds, the ideal height for the ring is 40 inches. For 9- to 12-year-olds, the ideal ring height is 48 inches.
When you're mounting the hardware, get it right the first time. With the humidity in the air, your towel ring will loosen in short order if the screws aren't sunk into a stud. Use a stud finder to make sure you're installing it in a good spot. If you can't, then use some butterfly wall anchors to make them stay mounted for the long haul. And be sure to use a level so it's installed nice and straight.