Once your duvet cover starts to slide, it can be quite the slippery slope, culminating in the disastrous heap of a scrunched up comforter. Just getting your blanket into the duvet cover can make for a day's workout. Luckily, there are a few affordable, easy and quick tips and tricks, involving duvet grips and clips, that will help your duvet cover stay put.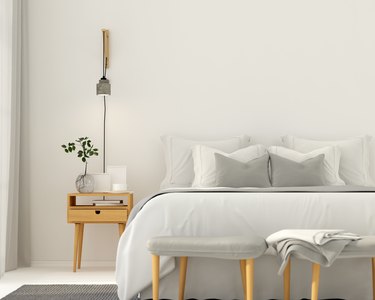 Clip It
Secure your comforter to your duvet cover with handy clips that can be found anywhere from a store that sells home goods to an arts and crafts shop. You can even use binder clips from the office supply cabinet. Attach them to the corners of your bedding set, and voila! No more uncomfortable shifting.
Snap It
Snaps that come with an iron-on circular fabric base are sure to keep your duvet cover in place, and they take minimal effort to apply. Simply iron them on to both the corners of your duvet cover and the corners of your comforter, and snap, you've got a cover sans slide. And the biggest perk: It makes changing your duvet cover incredibly simple, so laundry day doesn't have to be a complete drag.
Grip It
Get a grip! No, really, get a grip. Duvet grips sold at Bed Bath & Beyond are beyond useful when it comes to keeping your comforter from bunching up or sliding inside your duvet. These durable plastic grips won't harm fabrics and can be used discreetly inside or outside the cover for a more decorative flair.
Sew It
This method takes a bit of handiwork, but it'll be well worth the effort. All you'll need is some stretchy cord, a needle and thread, and buttons. Cut four small pieces of the cord, make a loop with each and sew them to the four inside corners of the duvet cover. Next, sew one button onto each corner of the comforter. Then, slide each loop over each corresponding button, and you'll forever be free of the terrible, no good, very bad slipping cover.
Tie It
For this crafty ribbon-tie solution you will have to employ your handy sewing skills. You'll just need a ribbon, needle and thread, and five minutes. Simply turn your duvet cover inside out and find each corner seam where you'll stitch each strip of ribbon. Once all four corners are finished, tie each strip to the corner tabs on your comforter. Flip the duvet right side out and there you go: you've got a blanket with staying power.