Vinyl and PVC materials are often confused with each other. In reality, vinyl is an umbrella term, and PVC falls somewhere below it. PVC is a popular type of vinyl, commonly used in the construction industry due to its durability, ease of installation and relatively low cost. There is a wide variety of functional vinyl and PVC blinds ranging from basic models to those intricately designed. Multiple factors must be considered when deciding on the right choice for your needs including aesthetics, cost, functionality and longevity.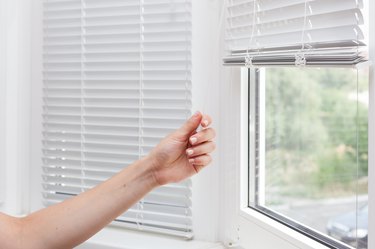 The Classic Choice
Venetian blinds are a classic and age-old blind choice. With adjustable horizontal slats, vinyl Venetian blinds are effective at blocking or filtering sunlight while still allowing users to view the outside environment when needed.
Vinyl Venetian blinds are an excellent and cost-effective choice for those looking to welcome natural light and outdoor views but maintain a significant level of privacy.
For alternative aesthetics, there are plenty of other options.
Faux Wood
To create a more natural look, faux wood is your best bet. Unlike 100 percent wood blinds, PVC faux wood blinds will not crack or fade with time. These manufactured blinds are also great for hot, sunny areas due to their UV inhibitors and other additives that make the material exceptionally durable.
Vertical
This type of window covering consists of vertical slats, usually PVC, that hang from a bar above the window. Vertical PVC blinds are a top choice for homeowners to cover large windows or sliding glass doors. With easy adjustment, their position can instantly change a room and allow a flood of natural light indoors or provide maximum privacy.
Mini
Another type of horizontal window blind is the mini blind. Held together with string, its long and thin slats are opened, closed, raised and lowered with strings and rods similar to classic vinyl Venetian blinds. PVC mini blinds balance affordability with functionality, and are easier to clean compared to those with wider slats, such as the Venetian variety.
Cordless
If you have children or pets, you may want to consider going cordless for safety reasons. Cordless blinds are also great for those in favor of a minimalist look. Cordless PVC blinds are very durable, sleek and long-lasting. A lift mechanism in either the headrail or bottom rail of the blinds makes it possible to raise and lower blinds evenly, and a twist of a rod opens and closes its slats.