Oneida has manufactured numerous flatware patterns since the company first began as self-sufficient community in the mid-1800s. Because such a great number of styles exist, identifying a particular pattern may seem a bit overwhelming, unless you have the original flatware packaging or receipt. Oneida's website, as well as several replacement-flatware companies, offer image-based, searchable databases to help figure out the name of your particular pattern. Knowing the pattern name makes it much easier to purchase a replacement for that lost fork or teaspoon from an otherwise complete set.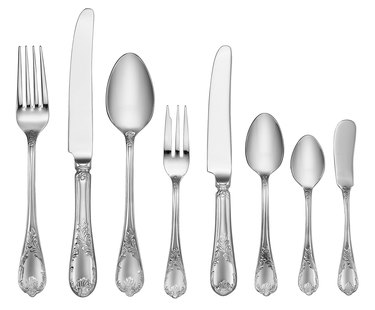 Examine All Markings
Examine the fronts and backs of several pieces of the flatware, looking for notable markings. The backs of flatware pieces typically contain written information that may lead to clues about the pattern name. Use a magnifying glass if reading the small writing is difficult or if some of the letters are worn. Write down any information from the back of the flatware.
Search the Oneida Flatware Website
Visit the Oneida company website and click the "individual flatware" option on the left portion of the screen. Select any one option from the list, such as knives, forks or spoons, to pull up a searchable tool that helps you identify patterns.
Click through the options on the left to enter more information about your Oneida flatware, such as "stainless steel" for the material, or "decorative" for the finish. Hit "search" once you've entered basic details to narrow down your search.
Visit Replacement Flatware Sites
Visit replacement flatware websites if you can't find the specific flatware pattern on the official Oneida site. Flatware websites feature both images and pattern names, and may carry pieces discontinued decades ago, while the Oneida site only features pieces that are fairly current. Examine images similar in shape or design to your Oneida flatware to find a match.
If you still can't figure out the pattern, snap a picture of a teaspoon that features the mystery pattern, using a digital camera or your mobile phone. Check the photo to ensure the pattern details are obvious. Email the image, along with details about the writing on the back of the spoon, to Oneida customer service.
When All Else Fails
Sometimes, the answer may be hidden within your own home. If you purchased a set of this mystery flatware some time ago, check cupboards, the china cabinet or any storage areas around the house for the original packaging that may include the pattern name.
If the flatware is antique, a local antique dealer who sells flatware may be able to help you identify the pattern.