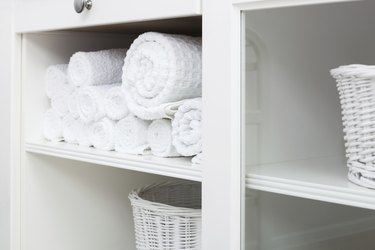 The linen closet is a quaint throwback to the days when housekeeping wasn't whatever you could cram in between the end of the workday and fixing supper. If you happen to have an older home with a generous linen closet, you can store most of your household linens all in one place. But it may be more convenient -- and it definitely is when you are short on storage -- to keep linens attractively organized where they are used.
The Laundry List
Once you add up the different types of linens required to furnish a western household, you have a surprisingly long list. Bedding includes sheets, pillowcases, mattress covers, blankets, pillow protectors, shams, bedspreads, duvets and duvet covers. Table linens are tablecloths and napkins, and may include placemats, runners and biscuit warmers. Bath linen inventory divides towels into washcloths, hand towels and bath towels, and includes bath mats and decorative seasonal or guest towels. Kitchen linens are towels used for drying dishes, general hand-drying and mopping up, and may include dish rags.
The Linen Closet
Lucky you -- there's a big linen closet in the upstairs hall and you have one location for unpacking all that clean laundry and putting it away. Linen closets have a perennial case of clutter creep, so organizing the closet, and staying on top of it, is an efficient necessity. Start with labels. Create labels for either locations such as- master bedroom, main bathroom or by types of linen -- king sheets and bath towels, for example. Labels make it easy for occasional helpers to put everything in the right place. Fold all linens and store them on their designated shelves or in their baskets. Adjustable shelves let you give more room to towels and comforters and less to flatter sheets, pillowcases and tablecloths. Keep seldom-used items, like extra pillows and heavy blankets on the top shelf out of the way.
Bed and Bath
Keeping linens where they are used has obvious advantages. But you do need an attractive way to store them so the visual effect isn't just utilitarian. Re-purpose an old glass-front cabinet for holding towels and washcloths in the bathroom. Distress and faux-age it for a shabby chic-style period bath. Install wire shelving on the wall high over the tub and roll all towels identically for a contemporary bathroom. Hang a wooden produce or wine crate on the wall vertically to hold towels. Store folded clean sheets and pillowcases in vinyl under-bed cases or in drawers, lined with scented shelf paper and fitted with casters so you can roll them under the bed. Hang a fabric shoe-keeper in the closet and store linens in its vertical cubbies. Stack vintage suitcases next to the bed to form a nightstand, and keep spare bed linens, extra pillows and blankets inside.
Sideboard and Pantry
Dedicate a kitchen drawer to folded dishtowels, if you can spare it. Otherwise, a wire or wicker basket on a pantry or cabinet shelf keeps towels organized. The wicker picnic basket, parked on top of the fridge, is another handy place for the extra dish towels. Sideboard drawers and shelves in the dining room are the obvious choice for folded tablecloths, napkins, runners and placemats. But an especially colorful collection, gathered on your travels, is as intriguing as an exotic bazaar when the kitchen linens are folded and stacked on shelves visible through a glass-front hutch. In place of a traditional sideboard, a brightly hand-painted Tibetan chest or a stepped tansu with closed cubbies -- fitted with drawers or hinged cabinet doors -- contributes to the decor and provides a useful place to stash kitchen and dining linens.
---
Benna Crawford has been a journalist and New York-based writer since 1997. Her work has appeared in USA Today, the San Francisco Chronicle, The New York Times, and in professional journals and trade publications. Crawford has a degree in theater, is a certified Prana Yoga instructor, and writes about fitness, performing and decorative arts, culture, sports, business and education .