Just because you're renting doesn't mean you can't customize your space. You don't have to live with ugly melamine or knotty pine, and you won't even lose your deposit. Your newly decorated cabinets can hold up against kitchen messes and you'll be able to remove the covering easily when you move out.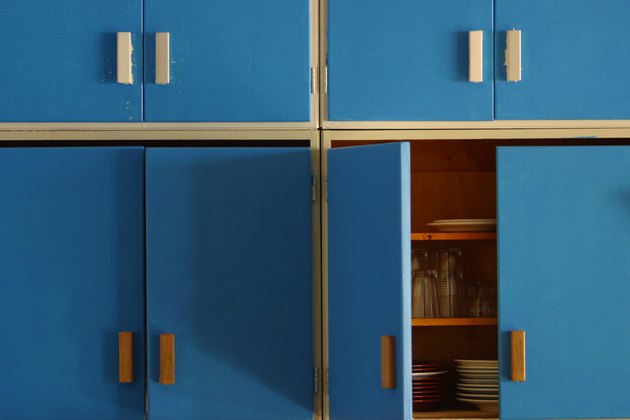 credit:
Hemera Technologies/AbleStock.com/Getty Images
Step 1
Removing the doors from your cabinets and remove any pulls. Set them aside in a safe place.
Step 2
Clean the doors and faces of the cabinets and dry them thoroughly.
Step 3
Cut lightly adhesive vinyl shelf paper to fit cabinet doors. If the door has panels, cut pieces to fit inside the panels. Cut separate pieces to cover the frames -- the corners can be straight or mitered, but should have as little overlap as possible. When the door is one solid piece, cut so the contact material wraps around the edges of the door and over to the inside of the door.
Step 4
The insides of the cabinet doors can be covered if you wish. The material is just sticky enough to apply, but it needs something extra to make it stick securely. Spread a thin layer over where the different pieces of vinyl material meet.
Step 5
Slowly work your way across the kitchen. Drawer fronts can be covered as well as the cabinet faces. The process not only alters the look of your cabinets, but make them resistant to kitchen disasters as well.
Step 6
Peel the vinyl off the cupboards when it is time to move. Gently scrape away any rubber cement with a razor blade -- being careful not to scrape the paint or finish of the cabinet. Any residue from the vinyl can be removed with a commercial adhesive remover.