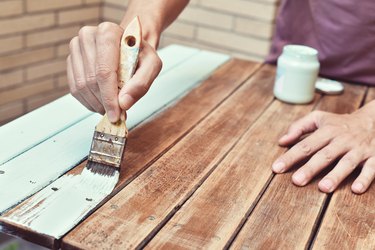 Painting furniture breathes new life into older pieces or lets you customize a piece to complement your decorating style. The best technique for applying the paint depends on what type of furniture you are painting and what kind of look and finish you are trying to achieve.
Spray Painting
Furniture refinishing experts who do a high volume of projects often turn to spray paint for its efficiency and professional-looking results. Spray paint is also the way to go if you want a high-gloss, lacquer finish. It also offers other advantages such as:
Even coverage without brushstrokes.
Spray painting is faster than brush painting.
Most spray paint is oil-based and provides a more durable finish than latex paint.
Spray paint can be used on practically any surface, including wood, metal, wicker, plastic and resin.
Spray paint dries much more quickly than brushed-on paint.
Spray paint is easier to apply on furniture with spindles, small pieces, or intricate nooks and crannies.
Easier cleanup – no brushes, rollers, buckets or paint trays to wash.

For a quick facelift on a chair, bench, stool or end table, spray paint is an excellent option. However, you can run into trouble when using spray paint on larger furniture. Even coverage becomes difficult when going back and forth over large surfaces with a spray can, resulting in a splotchy finish. There are two general remedies for this problem:
For a satin or gloss finish, apply a clear, water-based acrylic sealer with a sponge-chip brush, working in cooler temperatures between 60 and 75 degrees.
For a matte finish or subtle sheen, apply wax with a soft cotton rag, and buff it out.
Always apply spray paint in thin, even coats to avoid drips. It's also important to test the nozzle first in an inconspicuous area of the furniture; a bad nozzle spatters the paint, ruining the finish. Start with small furniture, and move on to bigger pieces as your technique improves.
Brush-On and Roll-On Painting
Although it is more time-consuming, painting furniture by hand with a brush and foam roller results in a beautiful finish. Advantages of hand-painting furniture include:
More color options, including the ability to mix custom colors.
Less expensive – brushed-on paint covers much more surface area than spray painting.
Less toxic – latex paint can be applied indoors with minimal fumes, whereas spray paint must be applied outdoors or in a well-ventilated area while you wear a respirator mask.

The key to getting a good finish with hand-painting is to use a high-quality angled brush and apply thin, even coats of paint. Use a foam roller with rounded edges to fill in large, flat areas faster – the rounded edges help prevent roller marks. Use the angled brush to paint detailed molding or grooves and to touch up any drips that occur with the roller.
Distressed Finishes
The durable bond spray paint forms on furniture makes it undesirable for distressed finishes. Scratch marks left by sandpaper taint the look of natural wear. Many furniture refinishers prefer chalk paint for distressed finishes. Brushstrokes appearing in the first coat eventually dry to a smooth finish. Chalk paint even has some of the same advantages as spray paint – it dries quickly and adheres to almost any surface.
Prime and Protect
No matter which painting method you choose, always prepare the piece with a high-quality, stain-blocking primer. If the furniture has a glossy sealed finish, sand it first with 100-grit sandpaper to roughen the surface and help the primer bond. Spray primers come in white and gray, with gray working best under darker colors. On high-traffic furniture pieces that receive a lot of wear and tear such as tabletops, use a more durable brush-on primer. However, if you plan to distress the piece, it's okay to skip the primer, especially if you're using chalk paint.
Protect painted furniture with clear, water-based polyurethane or acrylic sealers. The finishing topcoat determines the final sheen of the furniture, from velvety smooth satin finishes to glossy, lacquer-like finishes. Distressed and antiqued finishes typically call for paste wax or glazes.