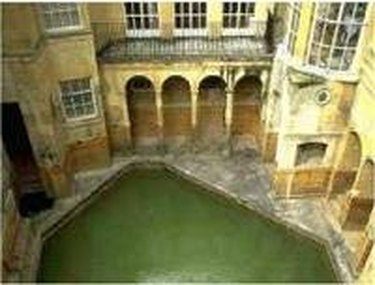 As the name implies, a soaking tub is not for someone who wants to get in and out quickly. Stick with a shower if that is your M.O. A Roman soaking tub is for those who love to lie back, relax, lounge around in a spacious, suds-filled tub and regroup after a long, hard day.
Soak To Your Heart's Content
According to Bathtubsforyou.com, Roman soaking tubs are so deep that you can soak right up to your chin. Soaking tubs are not only deeper than your standard tub, but also wider. They can also be longer or shorter than a regular tub. Some accommodate two people.
Stepping Down
Today's version of the Roman soaking tub consists of a tub where the filler spout rises off of the deck instead of through the walls of the room or the wall of the tub. You have to step down into a Roman tub instead of stepping up. Roman tubs got their name from the baths built by the Romans, which were bathing pools that you stepped down into. Consequently, the modern-day version of the Roman tub, which is a floor-mounted sunken tub, was given this moniker.
No Jets or Shower
Roman tubs generally do not include jets or a shower.
Deep Water
One of the luxurious features about a Roman tub is that its deck-mounted faucet allows for overflow tubes to be mounted higher. This provides a deeper water level. Some manufacturers (e.g., Kohler) utilize a Roman spout in their Roman tubs. The spout delivers water at 25 gallons per minute. This will quickly fill up the bathtub.
Install Wisely
Keep in mind when selecting and installing your Roman tub that if you locate the faucet, spouts, sprays and handles in the wrong location, this is going to interfere with your ability to get in and out of the tub. Also, are you able to reach the faucet from the outside of the tub? Consider mounting handles in a corner and putting the spout at the end of the tub or in a corner, according to Kiedel.com.
The History of Bathtubs
If you are interested in the history of bathtubs, read the book "Clean and Decent: The Fascinating History of the Bathroom and the Water-Closet" by Lawrence Wright (see Resources for a link). You will learn that the Romans practically made an art form out of bathing. The Romans turned bathing into a more social, pleasurable and religious event than simply a hygienic one, constructing large, elaborate buildings that housed enormous bathing areas, as well as space for disrobing and exercising. As far back as 1700 B.C.E., the Greeks had bathrooms with water supply and drainage.
---
Cindi Pearce is a graduate of Ohio University, where she received her bachelor's degree in journalism. She completed both the undergraduate and graduate courses offered by the Institute of Children's Literature. Pearce has been writing professionally for over 30 years.