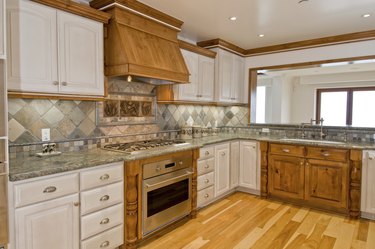 When choosing a granite countertop color to best complement your honey-toned oak cabinets, consider additional design elements in your kitchen, such as the existing floors, appliances and decorating style. Genuine granite is available in a variety of natural hues and veining patterns, so select a piece that contains speckles or streaks of color to tie your kitchen palette together. Be sure to choose a color that reflects your presence and personality. And, because granite is a natural material, no two pieces are ever exactly alike, making your color choice a truly one-of-a-kind design element.
Add modern freshness to your honey-tinted cabinets with a white granite countertop, which may be the most popular granite color for oak cabinets because of its versatility. Neutral white adds a clean, crisp ambiance against natural oak, while also making the kitchen feel more spacious and airy.
Pick out a slab of white granite with only a few specks or veins of color to draw attention to the white, or choose granite with numerous colored veining or speckled patterns on a white background to provide a sharp aesthetic contrast. Select granite specks or veins in hues to enhance your kitchen cabinets and furnishings, such as a few yellow- and brown-toned veins, to complement oak cabinets, white appliances and dark hardwood flooring.
Another most popular granite color for oak cabinets is actually a palette of earth-tone colors. Ramp up the decorating temperature in your nature-inspired kitchen by topping your oak-clad cabinets with granite countertops in a speckled mixture of warm caramel, muddy brown and creamy ivory tones. This earthy trio complements the yellowish tint of the honey oak with a comforting, back-to-nature feel.
Choose a granite slab that also incorporates a spattering of muted green or blue shades to inject outdoorsy color inside your kitchen. The mixture of brown, yellow, green and ivory creates subtle color reminders of nature, such as twigs, branches, leaves, grass and sky.
Add decorating drama to the kitchen with light-colored oak cabinets paired with coal-black granite countertops. The color contrast between the black counters and oak cabinets brings designer-savvy panache to a traditional-style kitchen.
Choose granite with fine gold veins or rich golden flecks to add a touch of glistening sparkle, while complementing the golden tones of the wood cabinets. The black granite countertops also tie together black appliances and black light fixtures decorated with shiny gold trim, such as oversize black metal pendant lights embellished with a brass band around the bottom rim of the fixture.
Wake up your yellow-tinted oak cabinets with a granite countertop in a striking bold hue. For example, choose an emerald green granite with swirls of gray and slight touches of yellow to offer a splash of brilliant color with a slight hint of yellow to visually bind the countertop to the cabinets.
Furnish the kitchen with sleek stainless steel appliances and brushed chrome light fixtures to highlight the modern vibe and emphasize the gray swirls embedded in the green granite countertop. Exchange old cabinet hardware for chrome replacements to complete the bold look.