Things You'll Need
Cloth

Bleach

Tack lifter

End nipper pliers

Hammer

Wire wheels

Regular pliers

Razor knife

Ruler

Paint Scraper

Putty knife

Sander

Steel wool
Tip
Steamer trunks can be relined with cedar or plain paper.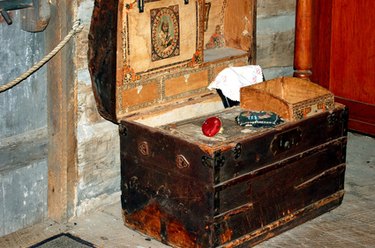 Antique steamer trunks are increasingly popular items purchased at auctions or antique shops and used as storage for linens, towels or CDs. Made during the late 19th and early 20th centuries, steamer trunks contained the possessions and toiletries travelers used during long voyages on passenger ships. Steamers usually need some cleaning or restoration. By cleaning the inside of old paper or canvas and tender washing, sanding and varnishing, a steamer trunk can look like it's never been used.
Step 1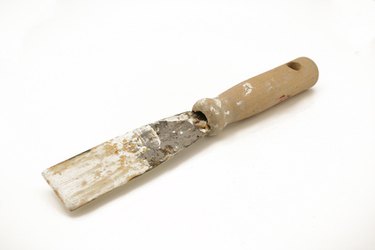 Scrape old paper from the inside of the steamer trunk with a putty knife and remove excess glue, using a spray bottle with water and vinegar mixture.
Step 2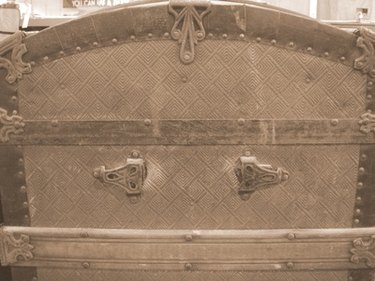 Use a soft cloth with a water and mild bleach solution to remove any mildew or mold. Let the steamer dry in the sun if possible for four or five hours.
Step 3
Replace the old paper with wallpaper in a similar design. If preferred, lightly sand and stain instead of replacing the paper.
Step 4
Cut pieces of wallpaper to fit, leaving about 1/2 inch extra, and reline the ends. Do the front and back before the bottom and top.
Step 5
Remove damaged nails with pliers or use the tack lifter to pry the head of trunk nails. Replace the nails.
Step 6
Inspect the outside of the trunk for any damage, especially wood trim. Use oil soap on wood trim to clean and then use a clear varnish. Replace trim that is damaged beyond control.
Step 7
Remove rust from tin surfaces with a wire wheel, used on an electric drill or sandpaper, and then buff with steel wool. Do the same with locks and corner pieces.
Step 8
Use a gloss or satin black paint on the tin after sanding, and finish with a clear coat of shellac or polyurethane to help prevent rusting.
Step 9
Reattach canvas, if it is just loose, with plain glue. Some steamer trunks were covered in canvas, and the canvas was covered with a clear coating for waterproofing. Replace if the canvas is not repairable and use the old canvas as a pattern. Finish the canvas by covering it with polyurethane.
Step 10
Use paint close to the original color of the steamer trunk, usually dark brown or black and gold. Clean with a soft cloth and mild detergent. Use a sponge to sponge the paint onto the trunk.
---
Kathy Eastwood is an avid freelance writer and works full time as a photojournalist for a weekly tabloid at West Point, N.Y. She has over seven years experience in writing professionally and in writing Web content. She attended New Paltz College in New Paltz, N.Y.