Tip
Keep in mind that on some watch models, you may have to press the "Start/Stop" button to activate the alarm.
Warning
Alarm-setting instructions may vary by watch brand and model. If the above alarm-setting instructions don't work for your watch, contact the watch manufacturer's customer service department for model-specific instructions.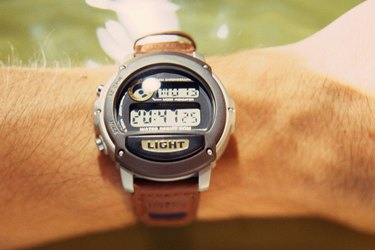 Digital wrist watches combine easy-to-read timekeeping with convenient calendar, stopwatch and alarm features. You can easily set the alarm on your digital watch to wake you up, remind you of an important appointment or let you know when to take dinner out of the oven. It takes just a few seconds to set your watch's alarm.
Step 1
Locate the "Mode" button on the digital wrist watch. Press the "Mode" button repeatedly until the alarm-setting mode appears on the digital display.
Step 2
Press the "Settings" button to start the hour place digits flashing. Adjust the hour digits to the desired time, using the "Split/Reset" button. Note that if the watch doesn't have a "Split/Reset" button, press whichever button you use to advance the digits when setting the time on your watch.
Step 3
Press the "Mode" button to shift the flashing to the minute place digits. Use the appropriate button to set the minute digits to the correct time.
Step 4
Press the "Settings" button to save your changes.