If your washing machine isn't working properly, it can cause significant problems. You rely on the appliance to keep up on your laundry, and some washer fixes can be both costly and time-consuming. Fortunately, fixing a washer stuck on its spin cycle is fairly simple and is a repair accessible by most people.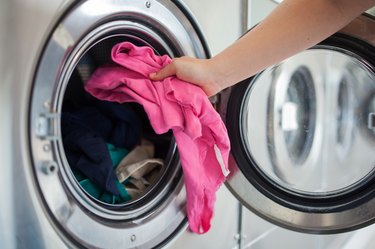 How to Reset a GE Hydrowave Washer
If you have a GE washer that's stuck on its spin cycle, you'll need to reset the machine. This is because the appliance is full of water during this cycle, and merely turning off the washer will leave it filled with water. This would require you to bail out the water manually.
Depending on the type of washing machine you have, you may need to proceed slightly differently to reset it. If you're having GE Hydrowave washer problems, unplug the appliance from its outlet. Leave it unplugged for at least one minute. Next, plug the washer back in and lift the lid six times in 12 seconds. From the time you plug the machine in, you have just 30 seconds to complete these six lid lifts. You'll also need to raise the lid at least 2 inches each time to ensure that the magnetic connection between it and the machine body is interrupted. Close the lid completely after each lift. The washer should now be reset. To test it, you can run a small load in the appliance without any clothes or linens. If the washer follows its normal trajectory and begins to fill with water and agitate, you may add laundry.
How to Reset a GE Washer
If you own another model of GE washing machine, you should still begin by unplugging the appliance. Shut off the circuit breaker or unplug the washer, ensuring that the unit is without power for 30 seconds. Next, turn the timer knob on the washer around and back to any position other than final spin. Be sure that the water is turned on, and restore power to the appliance. If this doesn't resolve the issue you're having with the machine, you may need to call for service.
Resetting a Front-Load Washer
Resetting a front-loading washing machine will vary slightly depending on the manufacturer of your appliance. If you have an LG machine, you should first power off and then unplug the unit. Next, press the start/pause button for five seconds. Plug the washer back in. It should be reset at this point.
If you need to reset a Whirlpool washer, particularly a Duet model, begin by unplugging the washer for 30 seconds to see if it will reset. If that doesn't resolve the problem, you can then enter the diagnostic mode for the machine to check for error codes. If either F9E1 or SUDS error codes are returned, they may be related to the spin cycle or draining of the washer. These codes will likely require your machine to be serviced.