They do so much day in and day out to keep you, the family and all the linens clean. When choosing a washing machine, you want to buy one that you will feel comfortable with, considering how much time you may spend interacting with it. However, there are so many choices for modern machines. It can be hard to decide whether to purchase a gleaming new washer with an agitator or to invest in the washing machine with the larger tub that has no agitator.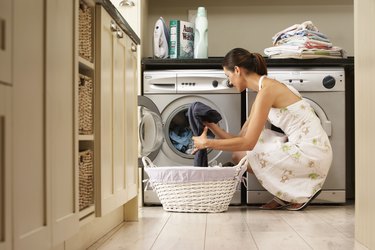 High-Efficiency Washer
A high-efficiency washer has technology that significantly reduces the amount of energy and water that rushes through the machine as you pile in sheets and soiled uniforms. They hold more and do more with less. However, although it uses a shockingly far less amount of water than older machines – up to 80 percent less than top-loading traditional waters – it can get the job done. It can wash more laundry at one time while also offering more than 60 percent in energy savings. These types of machines come with or without agitators. However, top loader washing machines with agitators use much more water and energy to move the spindle with fins against the clothes to get them clean.
Pros and Cons of a Washer with Agitator
Many who adore agitators think that the rod in the middle of the washing machine helps to clean clothes better than washing machines without agitators. They have been in machines dating back to the early 20th century. However, with modern machines, agitators aren't needed. Critics say agitators can be rougher on clothes and cause more damage due to more virulent washing action. A washing machine with an agitator doesn't cost much more or less than its agitator-less counterparts and is effective in cleaning clothes.
Pros and Cons of a Washer Without Agitator
A washer without an agitator tends to use less water and energy. They have a larger capacity because the spindle of the bulky agitator doesn't take up space. An alternative impeller mechanism that is installed in the middle of the washer basin is effective in cleaning clothes. The HE washers without agitators have very specific instruction on how to load dirty clothing in order to get them as clean as possible. They are gentler on clothing and can handle larger items, such as blankets and quilts, sleeping bags, bathroom rugs and other items that an agitator simply can't handle.