Many homes now have laundry rooms upstairs, eliminating the need to carry full laundry hampers up and down numerous steps. Washers and dryers aren't exceptionally heavy, but when you want to move them up a steep flight of stairs, it can seem as if they weigh hundreds of pounds. The main concern when moving a washer and dryer is your physical safety, followed by the care of the appliances. By following a few simple guidelines and moving only one appliance at a time, you can be sure of your own safety, as well as that of your washer and dryer.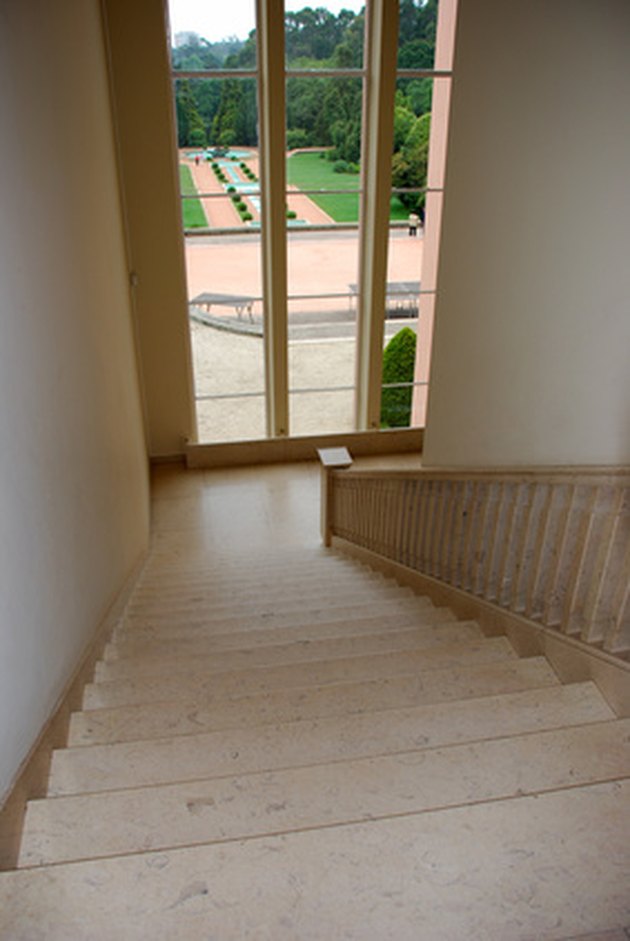 Step 1
Locate an appliance utility cart. Unlike a small "hand truck," an appliance cart has a wider frame, large wheels and an adjustable strap for securing the appliance to the cart. You can rent an appliance cart from an equipment rental business or buy one from a home and building center. For specific details on how to operate your cart, ready your user's guide or ask for direction from the store clerk.
Step 2
Remove any peripheral attachments to the machine, such as water hoses or vent hoses. Secure the electric cords in place with cable ties so they do not get in the way when moving. If your appliances are used, you want to make sure there are no bug or rodent nests lodged inside them. After all, you don't want to move unwanted creatures into your laundry room with the appliances.
Step 3
Place a small throw blanket over the side of the appliance that will be placed against the utility cart. This will protect it from getting dings or chips in the paint.
Step 4
Slide the utility cart bottom lift under your washer. Wrap the strap around the center of the washer and tighten with the ratchet handle on the appliance cart.
Step 5
Move the appliance cart with the washer to the bottom of the stairs, with the handle and the wheels against the stairs.
Step 6
Go up two or three steps, and tip the appliance cart toward you while your moving partner, or partners, lift up on the side of the appliance that is touching the appliance cart from the bottom. Instruct the helpers to lift by bending their knees and not by bending over with their back. Move slowly and steadily up the stairs, progressing up one step at a time. If someone needs to rest, you all should stop together.
Step 7
Position the washer into place and then repeat the process for the dryer.