Whirlpool front-loading washing machines have automatic door-locking systems that are programmed to open at the end of each wash cycle. If your washer is experiencing a malfunction, the door may fail to unlock automatically. Sometimes resetting your washer with the push of a few buttons does the trick. If not, roll up your sleeves, reach for a screwdriver and get ready to perform a manual unlock to your Whirlpool washer.
Step 1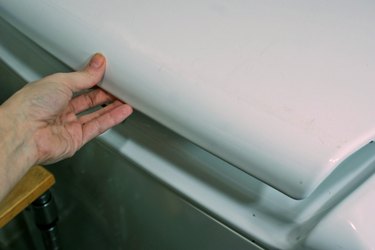 Wait at least three minutes after the end of the cycle before attempting to unlock your Whirlpool washer. The door will not unlock until the motor speed equals 0 and 180 seconds have elapsed since the motor control unit received the "Stop" command. If the water in the washer is warmer than 122 degrees Fahrenheit or the water level is set higher than Wool, Delicate or Hand Wash, the washer must drain before the door latch will unlock.
Step 2
Hold down the "Control Lock" button on your Whirlpool washer for three seconds at the end of the washing cycle. Listen, and when you hear the unlatching sound, the door should open.
Step 3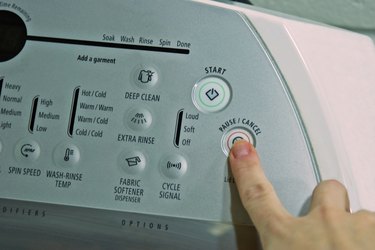 If your Whirlpool washer did not unlock at the end of Step 1, press and hold the "End of Cycle" button for five seconds to manually reset your washing machine.
Step 4
Unplug your Whirlpool washer and leave it unplugged for 45 minutes. After 45 minutes, plug your washer back in. The washer's programming should be reset and the door should open.
Step 5
Manually unlock the door of your Whirlpool washing machine. Make sure to unplug the appliance before completing the manual unlock. Use a screwdriver to remove the metal strip, called the toe panel, at the bottom of the washing machine. Once you've removed the toe panel, reach up inside the front panel of the washer and feel around for the door latch. Locate the tear-drop shaped tab at the bottom of the door latch and pull it gently. When you hear a click, the door should open.