Things You'll Need
Screwdriver

Adjustable wrench

Torque wrench

Jack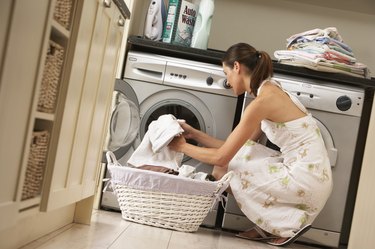 Maytag washing machines must be serviced over time. Common problems, such as draining or spinning issues, can be quickly remedied with easy, troubleshooting tips. Bigger problems, like a drain leak, for example, may require the replacement of Maytag drain parts. Have your Maytag washer user guide ready to help you solve these sometimes model-specific problems. Contact the manufacturer for replacement parts suitable to your Maytag washer.
Not Spinning or Draining
Step 1
Assess the load. Overcrowding your laundry with too many clothes (or not enough) can effect the water fill. Also, make sure to distribute clothes evenly before operating.
Step 2
Determine whether the washer is plugged into the electrical outlet. Reset your circuit breaker if necessary.
Step 3
Remove any kinks from the drain hose. Unclog the utility tub's drain if necessary.
Step 4
Close the washer's lid securely to add pressure to the lid switch. The lid switch prevents the washer from operating when the lid is open. If it is closed but still not working, the switch might be defective. According to Maytag, the washer's built-in failure feature will keep it from spinning or draining until the lid switch is replaced. Contact an authorized Maytag service provider for assistance if you suspect a malfunctioning lid switch.
Leaking
Step 1
Avoid overcrowding your load; an unbalanced, heavy load can contribute to excessive water fill that can leak. Slide the washer away from the wall to view the back panel. Check to see if the water hose is securely connected to the machine.
Step 2
Replace the entire hose if you see punctures. If the hose is in good shape, replace the internal washers only. Invest in new steel or plastic outer tubs if they are rusted, punctured or split.
Step 3
Unscrew the access panel and search for leaks inside the internal compartment as the machine fills. If leaks appear as the cycle continues, then replace the pump. Turn off the washer and unplug it from the electrical outlet. Carefully tilt the washer upward to access underneath the unit—use a car jack so the washer will not tip over as you perform the work.
Step 4
Loosen the two motor mounting bolts with a wrench to lessen the tension on the belt. Disconnect the pump hose and unscrew its mounting bolts with a torque wrench. Unclip the pump pulley with your hands. Once the entire pump and hose are removed, install the new pump by first, sliding the pump lever into the agitator slot and aligning the belt with the pump pulley.
Step 5
Line up the bolt holes and tighten the mounting bolts. Reconnect all hoses and snap in clamps. Pull against the motor to create tension on the belt, then tighten the rear motor mounting bolt. Fasten the mounting bolt located on the motor's opposite side. Place the washer back onto the floor and plug it in again.