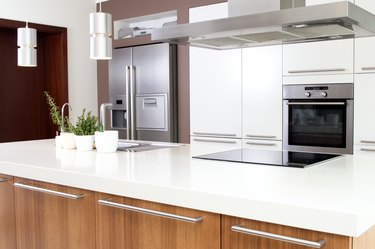 If you have certain KitchenAid refrigerator models, you might also have the Optimice function. This function allows the refrigerator to produce as much ice as you need, which is ideal for dinner parties or other situations where a great deal of ice is necessary. Optimice works by lowering the temperature of the freezer so that ice can be made more quickly. If the Optimice function is not working properly, you can troubleshoot it with relative ease.
Optimice Troubleshooting Basics
If your KitchenAid ice maker is not working or Optimice is not operating properly, begin by ensuring the appliance is plugged in. Then, check the "Optimice" button to verify that the setting is engaged. You may want to turn Optimice off and on again. Or, to unplug the refrigerator, wait one minute, then plug it back in again. This can help you perform a KitchenAid refrigerator ice maker reset.
If you aren't sure how to turn on Optimice, look for the "Max Cool" button. Optimice should be located immediately next to it. If Optimice is turned on, a light above the button will be turned on.
When you aren't using Optimice, it's best if you turn the setting off. In order to work properly, Optimice needs to lower the temperature of your freezer. This can mean that your food takes too long to thaw when you remove it from the freezer. Plus, it is not very energy efficient.
KitchenAid Max Ice Production
If Optimice isn't working, it's possible that the feature has turned off automatically. This setting only stays on for 24 hours at a time. If you would like it to be on permanently, you can lower the temperature of your freezer.
Is your KitchenAid ice maker not working still? Check the water fill line on your freezer. It is possible that the supply line is not working properly or is disconnected, which would make it impossible for the ice maker to produce ice.
A simple way to check whether the ice maker supply line is connected or functioning properly is to test the water dispenser on your KitchenAid refrigerator. If water can come out of the dispenser, that means that the supply line is working as it should, and the issue is something else with the Optimice feature.
Mechanical Damage and Professional Help
If the Optimice setting on your KitchenAid refrigerator is not working after basic troubleshooting, it is likely there is a mechanical failure with the unit. The motor in the ice maker could be burned out, or there might be an issue with the circuitry that tells the ice maker to produce ice.
In either case, you should contact KitchenAid to determine whether your appliance is still under warranty before you attempt to make any repairs yourself. Changing the unit on your own could void your warranty. And unless you are very familiar with this sort of fix, it could be dangerous for you to manipulate the water dispense and ice maker on your KitchenAid refrigerator.
KitchenAid should also be able to help you locate a certified repair professional to fix your refrigerator. The company will be able to troubleshoot the true problem and can order the specific part you need, depending on the model unit you have.