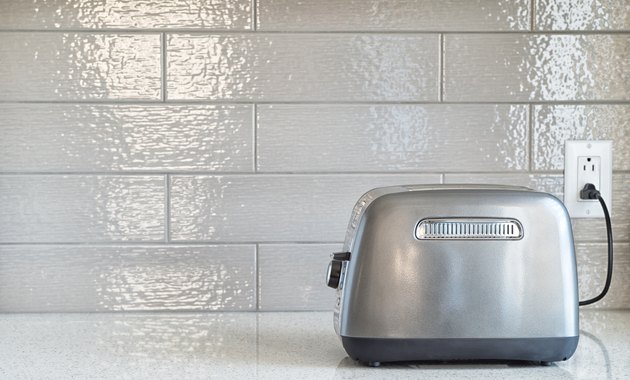 Toasters are an extremely common kitchen appliance that most households have sitting on their counters. They are used multiple times per day, like at breakfast for cooking bagels or at lunch time for toasting sandwich bread. The day may come when you try to push the lever down on your toaster and it keeps popping back up unwilling to be forced in the direction you want.
The good news is that toasters are relatively simple appliances to troubleshoot, and if your Hamilton Beach toaster is not staying down, there are a few things to look for if you wish to try and fix it yourself. As long as the problem is not in the wiring, then there is no issue with you diving into your toaster to determine what the problem is.
Toaster Won't Stay Down
If your toaster lever won't stay down, there is one important thing to check before finding a screwdriver and opening up your appliance. The toaster won't stay down if it is not plugged into a power outlet, so by simply plugging it in this may solve your problem. If the problem persists, yet your toaster is plugged in, then the problem lies within the confines of your toaster and it is time to dig a little deeper.
Assessing Other Possible Factors
It may sound silly, however, continual use of your toaster could be the problem behind your Hamilton Beach toaster not staying down. Some toasters use a magnetic mechanism to hold the lever down and debris could be causing your toaster to malfunction. If you want to avoid opening up your toaster, a good way to fix this problem is by slightly shaking your toaster and getting as many crumbs out as possible. You may need to turn the appliance upside down in order to remove the most amount of crumbs, according to the Hamilton Beach toaster user manual.
Once you have shaken out as many crumbs as you can, try pushing the lever down once again. If the lever still does not stay down, and you have access to an air blower, then try blasting air into as many openings as possible to dislodge any remnant breadcrumbs that may not have come loose from simple shaking.
Deep Clean and Troubleshoot
Don't be discouraged if your toaster is still not working. The next step is to open the toaster, which should consist of mainly screws and snap-on pieces that can be easily removed. Once your toaster is open you will notice that there is also a spring-like piece attached to your toaster. This spring piece may be dirty, which could also be the cause behind your toaster not staying down.
The toaster spring mechanism is what allows your toast to be popped back into place once it has reached its desired toasting shade. It is important that you clean this part with an electric contact cleaner so that you do not tamper with the electrical elements of your toaster.
Make sure to remove any last little pieces of breadcrumbs you see and deep clean any other aspects that you find dirty (deep cleaning does not mean with water and products, but simply being meticulous with the removal of debris). Begin putting your toaster back together. Your toaster will likely need to be reassembled before testing to see if it works again due to the sensors in the casing.
---
Taking on the role of the household's 'handyman' was a natural path for me. Watching my dad as a child be able to fix anything made me want to be just like him. Now with a toolbox of my own I tackle any task that my home throws my way. If the task can be accomplished with my own two hands, I have never been the type to hire someone else to do it. There is nothing more satisfying than staring at your completed project while you brush some dirt from your hands.
View Work