If you live in an older home, your garage might have a Stanley garage door opener. The company stopped manufacturing new universal remotes and openers in 1997, but if you still have one at home, chances are good you will be able to find a copy of the manual online. Your chances of locating a manual are even greater if you are able to identify the model number of your unit. If you cannot, however, simple tasks, such as programming universal remotes, are fairly universal with Stanley products.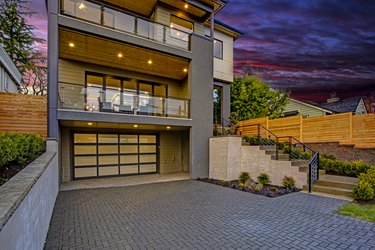 Before You Begin
Before getting started with reprogramming your remote, you will need to find a ladder so that you can access the motor unit, which is the part hanging from the ceiling of your garage. It's best to enlist the help of another adult to spot you while you are on the ladder. Be sure the area is well lit, too.
To make the process simpler, ask your assistant to hand you the remote or remotes you wish to program so that you don't need to climb down the ladder throughout the process.
Reprogramming the Remote
When it comes to programming Stanley universal remotes, most models follow the same process. Essentially, they require only the push of two buttons: One on the main unit and one on the remote itself.
First, climb the ladder and locate the button on the back of the motor unit that reads either "R" or "Learn/Teach." Press this button. When you do so, the LED light above the button should flash.
Next, locate a button that says "Homelink" on your car remote. Hold this down until the light blinks rapidly. The light should also blink on your motor unit. Once this has occurred, it means that the remote has been saved.
To test the programmed remote, press the remote control button to determine whether it opens and closes your door. If it does not, repeat the process. If you still have difficulty, it's possible there is a problem with the batteries in your remote or that the motor unit is faulty. If changing the batteries does not resolve the issue, you might need to purchase a new system or contact a professional for repairs.
Programming Multiple Remotes
If you have multiple remotes, you can program them all in turn following the process outlined above. Press the "R" or "Learn/Teach" button on the motor unit first. Once it has blinked, press the button on the remote you wish to program. This should link the two. Continue the process until all remotes are linked.