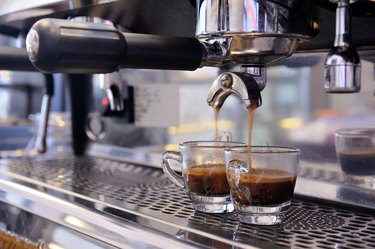 Many coffee connoisseurs love the rich taste of a well-crafted cappuccino or espresso beverage. Traditionally, these beverages were only available from a coffee shop. However, it's now possible to enjoy them at home with appliances like the Krups espresso and cappuccino maker. Fortunately, using such a machine is fairly straightforward, especially if you refer to the owner's manual with any questions.
Krups Cappuccino Maker Basics
When you first unbox your Krups machine, you should wash its removable parts using warm, soapy water. According to Home Grounds, you can also run a cycle of water or water and vinegar through the machine to clean it, as you would when descaling or periodically cleaning a traditional coffee machine. If you do use vinegar, be sure to run several water cycles afterward to ensure great taste.
Cappuccino and espresso are a bit more complicated to make than traditional machine-brewed coffee, so it's essential that you familiarize yourself with the Krups cappuccino maker or Krups espresso mini before you get started. Your owner's manual is a good place to start.
Once you're ready to prepare a cup of java, decide how much you'd like to make. Fill the machine's glass carafe with water to the desired level. If you're planning to froth milk to include in your hot beverage, add some extra water for that, too.
Brewing Espresso or Buying Espresso
Your machine can brew espresso for you. This requires you to place coffee grounds in the filter and set it to brew just as you would with a traditional coffee maker. You can then use the espresso to make cappuccino if you don't want to just drink the espresso shots.
However, it's also possible to buy brewed espresso if you'd rather make cappuccino directly. This is a personal preference based on the time you have available and the taste you prefer. Refer to your owner's manual for tips and suggestions, and ask friends who have a similar Krups machine what they prefer. You can also try each method and see which you like best.
Making Cappuccino at Home
To make a cappuccino with your Krups appliance, you'll need to use the milk frother. Fill the pitcher designated for milk halfway. You can use whichever kind of milk you prefer, though skim works perfectly well. Next, choose the milk frothing setting on the machine by pushing the button that looks like a cup. When the milk is steamed, change the selector to the "O" on the machine.
Now you can froth additional milk. Place the steam nozzle partway into the milk pitcher and turn the "steam" switch on. Let this sit for one minute and then let the milk settle before changing the setting back to "espresso."
Once the machine has finished brewing, you can assemble your beverage. A traditional cappuccino would be layered first with espresso, then steamed milk and then frothed milk. You may also choose to add sugar or another sweetener if it's to your taste. Krups espresso machine reviews are generally positive, even for Krups espresso machine older models, so it's likely a good buy if you enjoy brewed coffee beverages.