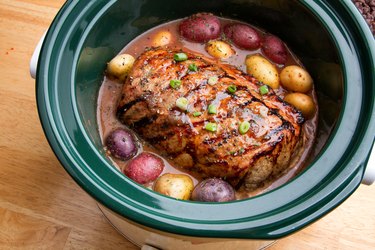 If you want to cook more at home but struggle with timing around a busy schedule, you may want to consider a slow cooker or crock pot. These pots cook food for a longer time at a lower temperature, meaning you don't have to check in on your food too often. In fact, they can safely be left on even when you're not at home! Many who work a day job benefit from being able to put in the ingredients in the morning and returning home to a delicious home-cooked meal, ready to eat.
CorningWare Background
One popular brand of slow cookers and crock pots is CorningWare. The company started making its signature glass-ceramics back in 1958, and according to their website, they're designed to be able to cook, serve and store food. CorningWare makes crock pots, which tend to be left on the stove, and slow cookers, which plug in and operate separately from your stove.
Slow Cookers vs. Crock Pots
A slow cooker can be a fantastic addition to a home for those of us who are busy and tend to spend a lot of time outside of the house. They're safe to be left alone and can help cook tasty and healthy meals for those who are short of time. However, slow cookers can take up a lot of counter space, and don't tend to be extremely aesthetically appealing.
A crock pot definitely wins out in terms of look. CorningWare, in particular, offers some very beautiful and vintage looking crock pots across a huge range of sizes. They are made from Pyroceram, a glass-ceramic blend that can withstand extremes of temperature and fast temperature changes. This means you can cook your food on the stove, serve it on the table and then store any leftovers in the fridge.
The CorningWare Crock Pot Range
CorningWare offers an enormous range of crock pots, in any size and shape you could desire. Alongside the classic white, they also stock many vintage CorningWare crock pot patterns, so you can choose the one which best suits your kitchen's aesthetic. Every CorningWare crock pot is safe on the stove, in the oven and in the microwave, and can also be stored in the freezer or refrigerator. They can be easily cleaned both by hand and in the dishwasher. The Pyroceram is nonporous, meaning it resists staining and odors.
CorningWare Slow Cooker Instructions
You should first set up and plug in your slow cooker, then put in your ingredients of choice. The CorningWare slow cooker manual suggests that once you've put your food in, you shouldn't remove the lid until you're ready to eat.
When you switch on your slow cooker, the display will read "0." This is the cooking time set. Add the number of hours you wish to cook for — between one and 10. The crockpot will automatically set a higher temperature for between one and six hours, and a slightly lower one for between seven and 10. Once you've set the number of hours, simply press the "on" button.
If you wish to cook your food quickly for one hour, you can use your auto-selection setting. The slow cooker will continue to cook at a lower temperature after this first hour is up. If you wish to keep a dish warm but no longer need to cook it, press "on" when the digital display reads "0."