Contemporary Hotpoint stoves have a tag with the model number and serial number attached to the appliance, and the location varies. Hotpoint refers to its stoves as ranges. Finding the model number simplifies troubleshooting, finding a product manual online and ordering parts or service for your range. Model types include gas and electric and they come in standard sizes by width: 20-inch, 24-inch and 30-inch.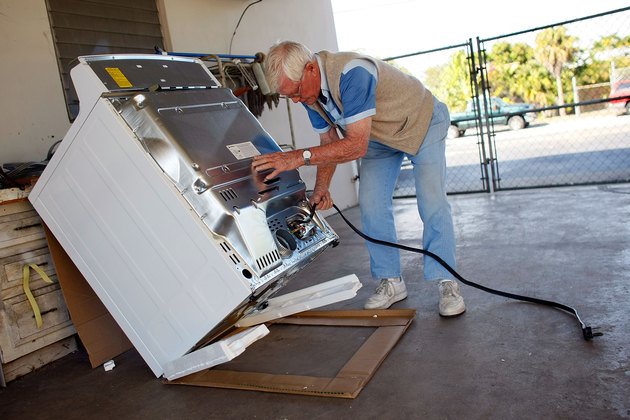 credit:
Joe Raedle/Getty Images News/Getty Images
Step 1
Open the oven door all the way and look for a tag on the frame of the oven's opening. In many Hotpoint ranges the tag will be on the bottom of the frame near the door's hinges.
Step 2
Check other possible tag locations if you didn't find the tag when you opened the oven door. Open the drawer below the oven, if your stove has one, and look on the surface of the rim around the drawer cavity that's facing you. Check under the front left burner if your stove is electric.
Step 3
Lift the stovetop if it's an electric range with a liftable cooktop. Check on the right side and center of the cavity for a tag.
Step 4
Grip the kickplate if there is one -- a kickplate is a removable panel below the oven. Pull it free; it may be necessary to lift it slightly as you pull. Look for the tag on the stove's frame.
Step 5
Write down the model number from the tag. Take a close-up picture of your stove's tag and store it in your phone or other portable device for convenient reference.