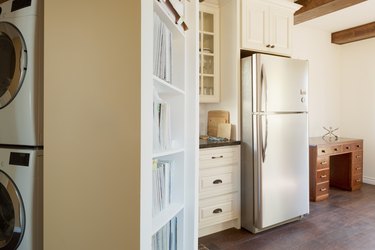 The best time to buy a refrigerator or any household appliance is before you actually need it. If you wait to buy a new dishwasher until yours is shooting water across the kitchen, you'll be forced to find a replacement in a hurry. That means you are at the mercy of the appliance store and won't have time to plan and shop during a sale. There are several times of the year when household appliances go on sale, and planning to shop then helps you get the best deal and puts you in control of the buying process rather than the appliance store.
When There's Typically an Appliance Sale
During the fall and beginning of winter, most major appliance manufacturers are rolling out new models. In preparation for this, many retailers drop prices on current models in September and October to make room for next year's new stock. If any of these older models still are hanging around in January, the prices get even lower with an appliance sale. This strategy works best for exercise equipment, ovens, dishwashers, stoves and summer appliances such as lawn mowers and air conditioners.
The Best Time to Buy a Refrigerator
While most appliance manufacturers introduce new models in the fall, refrigerator makers do things a bit differently. According to Consumer Affairs, new refrigerator models are introduced in the spring, making May the best time to buy a refrigerator. Look for last year's models to go on sale this time of the year, before your old fridge kicks the bucket during the heat of summer.
Any Holiday Will Do for a Sale
It is very common for appliance retailers to host appliance sales around holidays and over holiday weekends. Any holiday is fair game, and you should be able to find someone offering appliance bargains around Labor Day, Memorial Day, President's Day and even Black Friday.
Labor Day in particular is one of the best times to buy appliances at Home Depot, Costco or other big-name stores because it coincides with manufacturer's typical September/October release period. Labor Day is the perfect time for stores to kick-off their floor-clearing sales event in preparation for the new model roll-outs.
Do your homework when shopping holiday sales, as many retailers advertise discounted prices that aren't all that discounted. Shop around and don't assume a price is a good one just because it appears in the sales flyer.
The End of the Month Is Discount Time
Although major appliance retailers don't advertise it, you often can get a good deal from them at the end of the month. Salespeople usually are held to strict quotas, and those who haven't sold enough may be willing to make a deal at the end of the month to get their numbers up. Haggling is worth the effort and could land you a better price at any time, but end-of-the-month haggling is even more likely to get results. This strategy may work for any major appliance, including washers, dryers, refrigerators and dishwashers.