Mixing stainless steel and black appliances is a great way to get a clean, functional kitchen with a modern, elegant look. Stainless steel and black is actually one of the easiest combinations to achieve, because the two colors are already associated -- most stainless steel appliances have black trim, and vice versa. Both colors are also neutral, making it hard to go wrong when working with them. Stainless steel reflects a lot of light, so combining it with black is a great way to keep your kitchen from looking too dark.
Step 1
If possible, buy all of your black appliances from one manufacturer and all of your stainless appliances from one manufacturer. This ensures that all your appliances are the same shades of black and stainless. A blend of black and stainless steel works best if you're only blending one shade of each finish.
Step 2
Purchase multiple appliances of each color. Several stainless steel and black appliances help keep the look of your kitchen cohesive. Having only one black or one stainless appliance will make that unit stand out and seem out of place.
Step 3
Use accents of the opposite color to add a bit of black or stainless steel to a completely one-toned appliance. For example, place a black spoon rest or tea kettle on a stainless steel stove, or use stainless steel magnets on a black refrigerator.
Step 4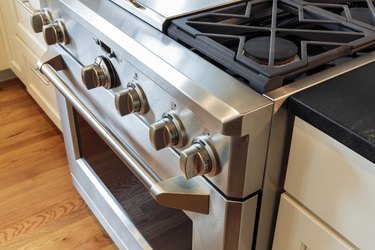 Shop for appliances that already blend the two shades together. Black and stainless steel are a popular mix, so you won't have to search for long to find an appliance with the colors you want and the features you need. You may find a stainless steel oven with black knobs, for example.
Step 5
Order black-glazed glass for ovens when you're decorating with black and stainless steel. It'll look great on a stainless steel oven front.
Step 6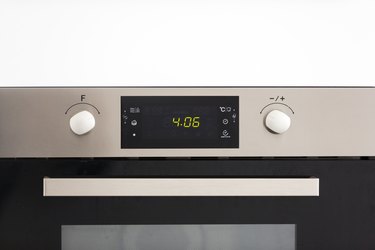 If you have an old stainless steel or black appliance already, remove the handles and take them to your local hardware or home improvement store. Explain that you want to replace them with your accent color -- either black or stainless steel -- and order new ones. Put them on the appliance when they come in.
Step 7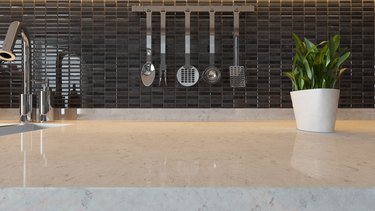 Use a black and silver clock, black rugs, silver canisters and other accent pieces to tie the whole look together. Mixing silver and black -- even if you can't find stainless steel everything for your kitchen -- is a good way to really bring the appliances together as a set.