Dampers are used to control the air flow through the combustion chamber of your wood stove. These devices are typically installed inside the pipe between the stove and the chimney and consists of a metal disc that rotates around a metal rod. Barometric dampers are specially designed to respond to changes in the level of air pressure affecting the flow of smoke out of your wood stove.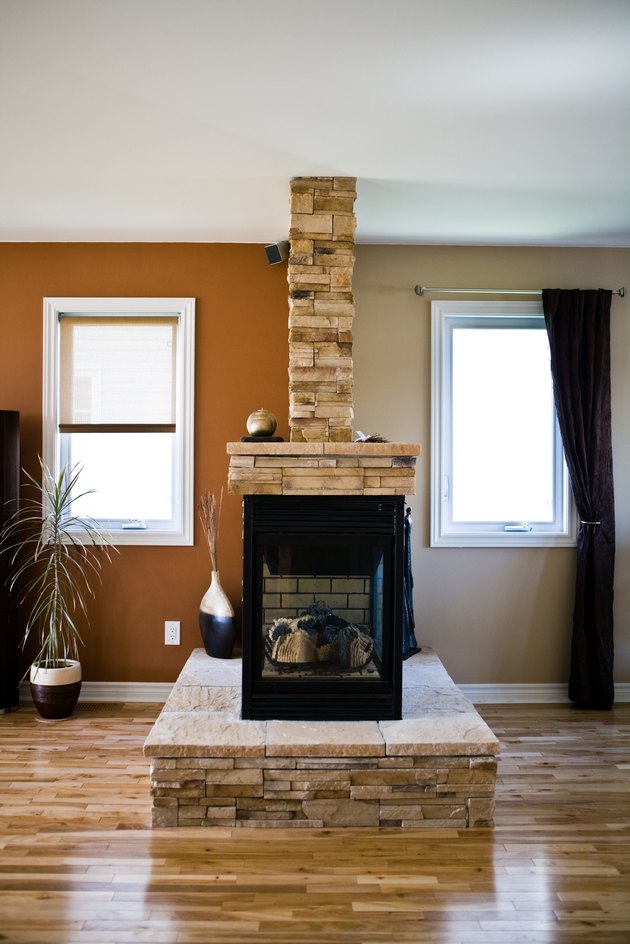 credit:
Jupiterimages/Photos.com/Getty Images
Barometric dampers provide automatic adjustments to the rate of exchange between waste gases and fresh air in your stove. Using a barometric damper you can accurately control the burn rate of your wood without manually adjusting the flue. A properly installed and adjusted barometric damper helps regulate the temperature and the flow rate of gases in your stove pipes and chimney. This helps reduce the accumulation of creosote in your stove pipes and chimney and prevents your chimney from becoming hot enough to ignite a chimney fire.
Barometric dampers are designed to automatically restrict or increase the amount of draft acting on the gases inside your stove. Barometric dampers are balanced with weights so that changes in the outside air pressure or the amount of exhaust coming from your stove causes the flapper to rotate around its supporting rod. When the difference in pressure between the outside air and the stove increases, the damper closes to limit the speed of the gases flowing the stove. This controls the rate of combustion in your stove and limits the amount of air being sucked out your chimney.
Barometric dampers use two sets of weights to control how the flapper responds to changes in pressure. The first set of weights is attached to the flapper and is designed to balance it within the pipe. The second set of weights are attached to the handle of the rod that supports the flapper. Modifying the weights on the handle influences the flappers resistance to changes in air pressure. Most barometric dampers are adjusted based on their performance while there is a hot fire in the stove. A hot fire is lit in the stove and weights are added to the chain until the flow of gas through the stove reaches an acceptable level. Smoke from your wood stove venting into the room or flames in your wood stove leaning towards the stove pipe are common signs of a poorly adjusted damper.
Install your damper inside the pipe running from your wood burning stove to your chimney so that there is at least 18 inches of clearance between unshielded surfaces and the damper. If your barometric damper is incorrectly adjusted it can increase the rate of creosote build-up in your chimney. Many newer stoves are designed to automatically adjust the draft rate in the stove. Installing a damper of any kind for this type of stove can decrease its efficiency. If your new wood stove is EPA certified, consult your manufacturer's guide before installing a barometric damper.