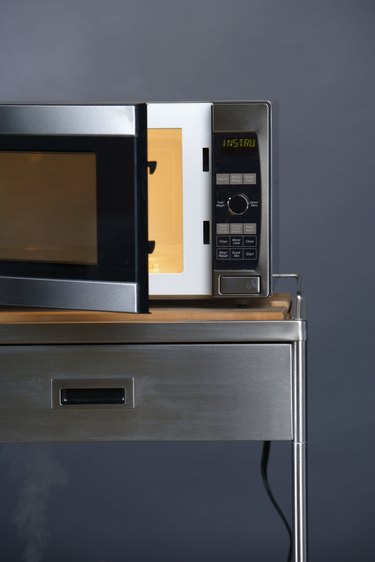 Magic Chef microwave ovens are capable of cooking food using one of several power settings. You might choose a lower power setting to cook frozen or cold food slower and more evenly, while higher settings are used for cooking food quickly. The oven automatically defaults to the highest power setting if you do not make a selection at the start of each cooking program. The power settings adjust the wattage used to cook.
Step 1
Place the food on the turntable and close the door. The oven does not start if the door is left ajar.
Step 2
Press the "Power" button on the control panel. The display shows "P-HI." Tap "Power" to scroll through the available levels. The number shown after "P-" is a rough approximation of the power level percentage. For example, "P-50" is approximately 50 percent power.
Step 3
Type a cooking time using the number buttons and press "Start." The oven hums and begins cooking at your chosen power level for the amount of time you chose during this step.
---
Jon Stefansson has been a professional writer since 2009. He is currently freelancing as an advertising and web copy writer for several Canadian and American clients. Stefansson graduated from Staffordshire University, England, with a Bachelor of Arts in broadcast journalism. He has freelanced for several British radio stations as a news reader and sports producer.