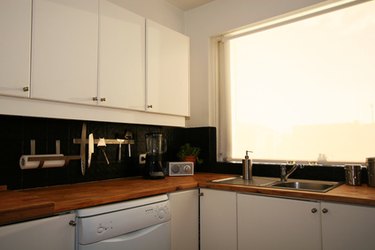 Dishwashers with different cosmetic features have been released as Quiet Partner II dishwashers by Whirlpool. Although the finishes result in different model numbers, the controls and functions of the different models are the same. In addition to having identical controls and functions, the power requirements and space requirements of the different models are also indistinguishable.
Electrical Specifications
The electrical specification for the various models in the Quiet Partner II dishwasher line is a 120-volt alternating current circuit of at least 15 amps. In average use, Quiet Partner II dishwashers will use about 330 kilowatt hours per year. The dishwashers are NSF and Energy Star certified.
Construction Materials
Quiet Partner II dishwashers use a plastic tall tub design. The racks in the dishwasher are made of vinyl. Exterior materials will vary, depending on the model chosen. They can range from a painted front to a stainless steel front.
Sound Dampening System
Whirlpool dishwashers use one of three levels of sound insulation. Quiet Partner II dishwashers are in between the sound insulating properties of Quiet Partner I and Quiet Partner III dishwashers. Dishwashers with Quiet Partner II insulation produce about 60 decibels of noise.
Washing Cycles
Dishwashers with Quiet Partner II noise insulation have four wash cycles. They are Light/China Cycle, Normal Cycle, Pots and Pans Cycle and Rinse Only Cycle. In addition to the cycles, however, there are six options as follows: heated dry option, high temperature wash option, Sani-Rinse option, an option to delay the start of the wash cycle, an option to lock the controls on the front of the dishwasher and a soak and scour option.
Physical Dimensions
The Whirlpool Quiet Partner II series of dishwashers is 24 1/2 inches deep, 34 1/2 inches tall and 23 7/8 inches wide. They should fit into standard dishwasher openings in most kitchens.
Moveable Silverware Rack
The Whirlpool Quiet Partner II dishwasher has a silverware rack that can mount in one of two places. It can mount in the traditional location on the lower rack, or if you have a larger load, it can also mount on the door of the dishwasher to make additional space in the lower rack.