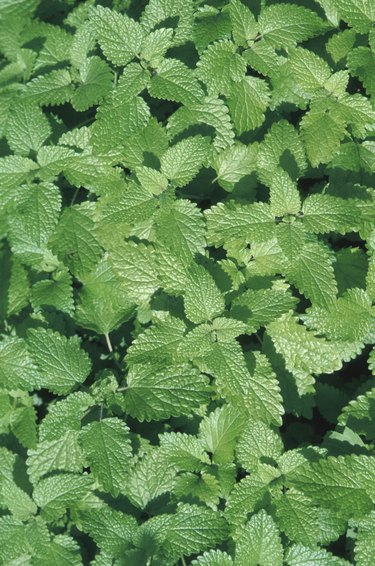 Mosquitoes tend to congregate in moist, shady spaces, seeking shelter from the sun while they await the arrival of dusk. To discourage the presence of these blood-thirsty pests, fill dark corners and shadowy sites with lush, fragrant herbs. Though most herbs grow best in sunny, well-lit sites, hardy perennials such as catnip, chives, lemon balm and thyme tolerate shade and fill a space with a piquant aroma that keeps mosquitoes at bay.
Mints
Mint plants, such as peppermint, spearmint and catnip grow equally well in sun and shade, making them excellent choices for filling awkward spaces. Rampant growers, these aromatic plants create a showy display of tidy green leaves and perky white blossoms while producing a fragrance that holds mosquitoes at bay. Catnip seems to be especially effective as an insect repellent. According to information published by Science Daily, the oils produced by the flowers and foliage of the catnip plant is 10 times more repellent to mosquitoes than full-strength DEET.
Alliums
Though they flourish in full sun, most members of the allium family can tolerate shade provided they are planted in rich, well-drained soil. Once established, scallions, leeks, chives, onions and garlic produce clusters of cheerful blossoms that are the highlight of the herb garden in early summer. The hardy bulbs, eye-catching flowers and cylindrical green leaves emit a mild, pungent fragrance that wards off mosquitoes and other unwelcome garden guests.
Balms
Lemon balm and bee balm are known for emitting a wonderfully intense, citrusy scent that is naturally repellent to mosquitoes. In addition to perfuming the garden with a delightfully clean, fruity fragrance, the lance-shaped leaves, square stems and colorful blossoms of these perennial plants instantly lighten shadowy spots and fill formerly bare spaces with soft flowers and tidy foliage.
Culinary Herbs
When they are not being used to add a flavorful kick to homemade dishes, culinary herbs such as thyme, tarragon and chervil can be put to use as insect repellents; mosquitoes seem to find their powerful aroma unpleasant. Lemon thyme is a particularly welcome addition to shady gardens. The clusters of dark green leaves and tiny white flowers brighten dark corners while emitting a lovely lemon fragrance that mosquitoes abhor.
Shop the Herbs: