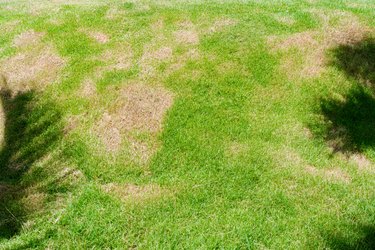 Growing vibrant, verdant turf creates a beautiful space for your front yard or backyard. Different fungi can affect grass for a variety of reasons. Determining the type of lawn fungus that is affecting your grass is important. Neem oil is a safe option to use on your lawn and in your garden and is usually the best home remedy for lawn fungus.
Why Does Lawn Fungus Occur?
Fungus in the lawn is common and usually occurs when a combination of factors creates the right conditions. The environment, a stressed lawn, and pathogens or microbes all play a role in allowing a lawn fungus to grow and thrive in your turf.
It's important to choose a type of grass, such as cool-season grass or warm-season grass, that is adapted to grow in the climate in which you live. Grass that doesn't receive adequate air, water, sunlight, or nutrients, or grass that is grown in poor soil can allow fungi to develop. Incorrect mowing of the turf can also play a role in the occurrence of a fungal disease.
There are several different kinds of lawn fungi. Climate, the variety of grass, and the time of year are all factors that play a role in when and what type of lawn fungi may occur. These are some common types of lawn fungi:
Brown patch (​Rhizoctonia solani​) occurs in hot, humid weather, often in the summer with cool-season grasses. Typically, the patches are shaped irregularly or are circular patches of discolored or dry grass.


Dollar spot (​Clarireedia​ spp.) looks like silver-dollar-shaped spots of tan-colored or dead-looking grass dotted throughout the lawn. This occurs with both cool-season and warm-season grasses and typically begins in the spring when temperatures at night rise above 50 degrees Fahrenheit. Symptoms may not appear until late spring or the outset of summer.


Red thread (​Laetisaria fuciformis​) occurs in cool-season grasses. The grass appears to be a pink hue, and the fungus spreads easily, so you may see many areas of your lawn with this disease.


Gray leaf spot ​(Pyricularia griseai​) affects blades of grass, changing their color to tan, gray, or brown. Spots can appear to have purple or red hues. If moisture or humidity is present, the spots change to gray and look fuzzy.


Powdery mildew (​Blumeria graminisi​) often forms when there is a lot of humidity or the grass is in the shade. The mildew blankets the grass and looks like a white or gray powder.
The Best Home Remedy for Lawn Fungus
If you'd prefer to take a natural approach to tackling lawn fungi, the best choice is neem oil. Neem oil can be mixed with water and then sprayed on the affected areas of the lawn a couple times a day for a week to two weeks. Combine 2 ounces of neem oil with 1 gallon of water. For 1,000 square feet of turf, it's recommended to use 2.5 gallons. Neem oil can be used as a preventive measure as well as to manage lawn fungus. Neem oil can be an effective solution for powdery mildew and leaf spot. For other fungi, it can help to stop them from spreading.
Note that using a natural home remedy for lawn fungus is typically more effective when the area affected by lawn fungus is small. If neem oil isn't working, then you'll need to resort to a chemical-based lawn fungicide to get rid of the fungi in your lawn.