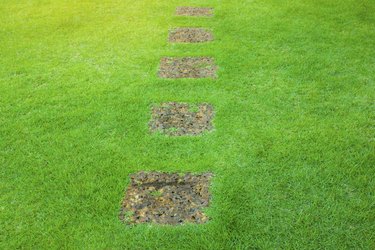 Emerald zoysia and bermudagrass are both popular warm-season grasses. Both are valued for their exceptional heat and drought tolerance and their capacity to withstand heavy use. While many Southern lawn owners rely on bermudagrass for its resilience, its climate restrictions limit its use.
Is overplanting bermudagrass with emerald zoysia a good solution? It can be, since there are sufficient similarities to make the differences appear to mesh nicely.
Bermudagrass (​Cynodon dactylon​) is the most popular turfgrass in the Southern states and has been for centuries. Native to tropical and subtropical climes, it is a perennial warm-season, fine-textured grass that grows back year after year and remains green and attractive from late spring through the hot summer months. In frost-free climates, it is green all year, but otherwise it goes dormant (i.e., brown) in winter.
On the other hand, bermudagrass is sensitive to cold temperatures. This means that the grass cannot be relied on exclusively for use north of the region known as the "transition zone." The transition zone is that part of the country in which the needs of warm- and cool-season grasses overlap, that is, in the northern South and in the southern North.
South of that region, from coast to coast, bermudagrass is a leading lawn choice, thriving anywhere with full direct sun and good drainage. Its tolerance to heat, salt, and humidity is exceptional, and it is very drought tolerant as well. It can be grown from seed, cutting the planting costs, and has the fastest growth rate (via both stolons and rhizomes) of any of the other warm-season grasses.
Get to Know Emerald Zoysia Turfgrass
Emerald zoysia turfgrass is a hybridized grass seed combining ​Zoysia japonica​ and ​Zoysia tenuifolia​ to create fine texture, slightly more rapid growth, and cold tolerance. A slow-growing grass, zoysia is planted by plugs, sprigs, or solid sod rather than seed.
Many experts rate zoysia turfgrass as the "best" choice for most homeowners. This turfgrass can survive severe winters, hot summers, and irregular rainfall. It tolerates shade better than bermudagrass and does just as well with drought. It resists disease and tolerates foot traffic. It doesn't grow as fast as bermudagrass and it takes some two years for a zoysia-plugged lawn to fill in.
Overplanting Bermudagrass With Zoysia
When switching from a bermudagrass lawn to an emerald zoysia lawn by overplanting instead of stripping and then replanting, emerald zoysia plugs are your best option. The bermudagrass must be controlled until the zoysia can establish itself. Plant the zoysia sprigs in the late spring to early summer and allow at least two years for the new grass to begin to knit in.
To get started, you'll need to take out some of the bermudagrass, then aerate the lawn by running a dethatching rake over it. Cast a combination of compost, aged livestock manure, and granular lawn starter fertilizer over the entire expanse of lawn. Divide the zoysia sod pieces into plugs some 2 inches square. Use a garden knife to make the cuts; then plant the plugs at intervals of 4 to 6 inches. Press the soil around the plug roots to make good contact.
Pull out any bermudagrass stolons that encroach around the zoysia plugs to prevent them from overtaking the slower-growing grass. Pull them out from the roots when you see any threat of competition for soil space, water, and nutrients. Don't mow for at least six weeks to allow the roots of the zoysia plugs to knit into the soil.