Things You'll Need
3-4 lbs. Epsom salts for every 1,250 square yards of lawn to cover

Lawn fertilizer spreader

Water

Bag of lawn fertilizer (20-5-10 slow release dry lawn food, enough to cover 2,500 SF)

Ammonia

1 lb. bag of powdered sugar

2 cans of beer

Listerine mouthwash
Tip
Apply one of the fertilizer mixtures every two weeks as needed to acquire and maintain a green lawn.
Plants create sugar during photosynthesis; the addition of powdered sugar aids in speeding up the process.
Epsom salts are non-toxic and safe to children and animals in this application.
Warning
Epsom salts will clump together in areas of high humidity. Store in a cool, dark place.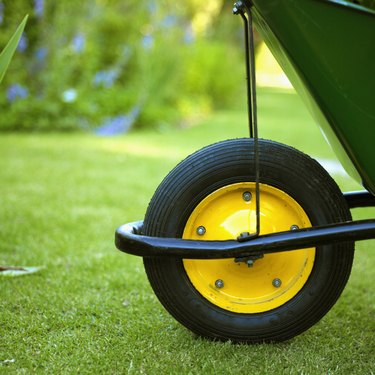 When spring rolls around, lawn enthusiasts rush to apply seed, fertilizer and weed killer, anxiously waiting for their grass to turn a lush green. Common epsom salts provide an easy, inexpensive method to green the lawn. Usually used to soak achy feet, epsom salt is not really a salt, but a mix of magnesium and sulphur. Both ingredients benefit a lawn by increasing the production of chlorophyll, promoting seed germination, and aiding the components of fertilizer.
Step 1
Mix one cup of epsom salts with one cup of ammonia. Add water until the mixture equals one quart of fluid, and place the solution in a sprayer. Attach the sprayer to a hose and spray the mixture on your lawn, covering up to 2,500 square feet.
Step 2
Combine three pounds of epsom salts with one bag of lawn fertilizer. Set your lawn spreader on medium and apply half of this mixture to the yard.
Step 3
Stir one pound of powdered sugar and four pounds of epsom salts into the lawn fertilizer using a large spoon or a gloved hand. Using your spreader, apply the mixture onto the lawn at a medium setting.
Step 4
Blend one cup epsom salt, one cup liquid soap, one cup ammonia, two cans of beer and one cup Listerine mouthwash. Add enough water to make one gallon of fluid and apply to 2,500 square feet of lawn using a sprayer attachment on a hose.
---
Lori Lapierre holds a Bachelor of Arts and Science in public relations/communications. For 17 years, she worked for a Fortune 500 company before purchasing a business and starting a family. She is a regular freelancer for "Living Light News," an award-winning national publication. Her past writing experience includes school news reporting, church drama, in-house business articles and a self-published mystery, "Duty Free Murder."