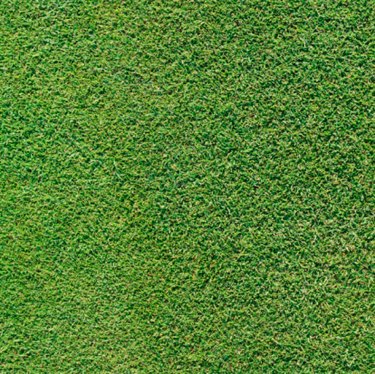 Florida is famous for its hot, sub-tropical climate, and the best grass species for the region can survive the temperatures, moisture and marshy soil with a high saline content. A number of grass species thrive in Florida's climate and proximity to the ocean. Gardeners can find seeds that produce a dense carpet of hardy turf, which can stand up to the environment, as well as athletic activities and high traffic.
Zoysia Grass
Native to Asia, Zoysia seeds produce excellent turf grasses that are luxuriant underfoot and thrive in the hot, sub-tropical climate. The species is characterized by a dense, uniform sod that is extremely thick and tightly growing, which often chokes out weeds and crabgrass. It tolerates shade and salt spray, as well as foot traffic and mowing. In Florida, Zoysia japonica is one of the best choices to establish thick turf from seed. Zoysia tenuifolia also thrives in Florida's hot, humid weather and is a good choice for grass that can withstand heavy traffic; however, it has an extremely fine texture and is prone to becoming thatched.
Bermudagrass
Bermudagrass is a warm-season turf grass that produces a hardy, dense turf that tolerates most of the soil conditions in Florida. The heat-loving species tolerates drought and salty soil conditions, and establishes quickly from seed. Its dense habit chokes out weeds, and tolerates heavy foot traffic. Improved, fine-textured cultivars are popular choices for golf courses, sports fields and residential and commercial landscapes. In Florida, FloraTex is a popular hybrid that stays green for most of the year and has a dense, leafy texture. It requires less water and is resistant to several local pests and diseases, including stunt mites and dollar spot disease.
Seashore Paspalum
Seashore paspalum is a warm-season turf grass that grows naturally in coastal, tropical and subtropical regions. It thrives in hot temperatures, brackish waters and the high salinity of ocean spray and water. It also tolerates heavy rain and flooding, which makes it ideal for Florida's coastal or marshy areas. Seeds produce dark green, dense grass that grows in a sprawling, horizontal habit, which creates a thick carpet of grass and requires minimal mowing. The Sea Isle cultivar is popular for its dense sod and fine leaves, and is ideal for commercial or residential lawns, athletic fields, golf fairways and parks. Plant Seashore Paspalum in sunny locations; this species doesn't perform well under tree shade.
---
Susan Sedgwick has been a writer for more than 10 years, and her work has appeared in major newspapers, magazines and websites. Her favorite topics include interior design, travel, food, wine, entertainment, health and medicine. She has been featured in "Time Magazine," "New York Daily News" and "Detour." She earned her Masters of Arts in English/fiction writing from New York University.