Tip
Consult your owner's manual for additional information.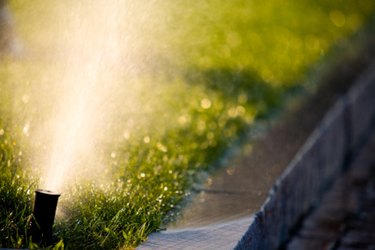 Most modern sprinkler systems can retain programming instructions for years with or without power. This is possible because most control boxes contain a small amount of flash memory, which retains data about watering schedules. It is possible to clear this memory and reset the system. Sometimes, resetting the system is easier than changing an entire irrigation program if you want to reduce the amount of water used or change the watering schedule. While there are many different types of controllers, Hunter and Toro are two of the largest manufacturers.
Toro controllers
Step 1
Turn the control dial to the "off" position.
Step 2
Press the "next" button to access the clear-memory feature. The display should flash.
Step 3
Press and hold the "off" button until the display stops blinking.
Step 4
Turn the control dial to the "run" position.
Hunter Controllers
Step 1
Press and hold down the "minus" arrow and "prog" buttons simultaneously.
Step 2
Press and release the "reset" button in the lower wiring area.
Step 3
Wait two seconds and release the three buttons. The unit should display "12:00."