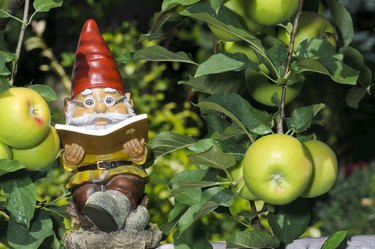 Garden gnomes are a playful and adorable addition to any yard or patio. Your gnomes may start to fade, or the paint may start to chip over time. Being exposed to the elements in your garden can take a toll on them. You can repaint your existing gnomes or purchase new gnomes that are unpainted and custom design them to your liking.
Be sure to make your canvas as clean and smooth as possible before painting. There may be paint chipping on the gnomes, so use a soft-bristle brush to remove paint that is flaking. A toothbrush, vegetable brush, or paintbrush works well for this project. A toothbrush can come in handy for reaching small nooks and crannies.
Next, clean the gnome to get any dirt, mud, and bird droppings washed away so you can start fresh. Use liquid dish soap and dilute it with water in a bucket. Use a microfiber cloth to scrub any stubborn stains. Rinse off the gnome to remove any soapy residue. Allow the gnome to dry completely.
The paint must be waterproof to be able to handle rain, snow, and ice. Having UV protection in the formula is ideal. Read the manufacturer's information on the packaging to see if the specific brand is compatible with your project, making sure the paint is suitable for outdoor concrete structures, assuming your gnome is concrete.
One paint option is Magicfly outdoor acrylic paint. This paint contains UV protection and weather resistance in the formula to handle the elements. Another option is NicPro outdoor acrylic paint. This product has UV protection and is self-sealing to prevent fading and cracking. Choose a color palette that matches your creative vision.
Do your painting outside to allow for proper ventilation or work in a well-ventilated sheltered area. Place a towel or sheet underneath the gnome to make cleanup easier and keep any drips contained. Wear gloves, a mask, and protective eyewear when using any sort of spray paint or coating. If you have a gnome that is already painted but the old paint has faded, you can either paint over the existing color or paint it with a primer to begin with a fresh canvas.
Use paintbrushes of varying sizes. Begin by painting larger surfaces first with a larger brush. Next, add small details, such as the eyes, mouth, and objects the gnome is holding, using a smaller, thinner brush. Have fun with the colors and details since this is what will give your gnome personality. For example, instead of a solid-color shirt, your gnome could be wearing stripes or a team jersey. Apply a second coat of paint if needed after the first coat has dried. Read the manufacturer's instructions on drying times, as they can vary.
Give the paint enough time to dry completely. This will be dependent on the brand you use. You can spray on an optional clear protective coating such as Krylon clear coating, or Rust-Oleum UV protective clear coat. An ultraviolet-protective coating can help prevent fading in the future. If your paint of choice already has this built in, then you can skip this step, or you can spray on an additional layer of protection.
Lay a towel or sheet below the gnome before spraying and do so outside for the best ventilation. Wear protective gear. Once the gnome has dried completely, you can place it in your garden to keep a watchful eye on your flowers. These creatures are thought to offer protection and good luck to your home and plants.