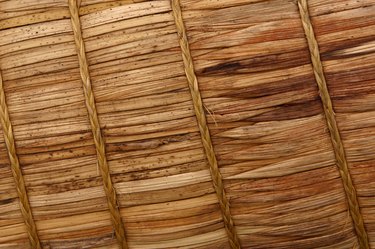 Wicker patio furniture is attractive, durable and comfortable. A well-maintained piece of wicker furniture can last for decades. One key to keeping your wicker furniture looking good and lasting is to make sure the furniture is protected with a proper finish. You have options when it comes to finishing your wicker. The best choice will depend on the look you are going for and how often you are willing to maintain the furniture's finish.
Transparent Oil Stain
Wicker furniture can be finished with a transparent oil-based wood stain. A successful application of wood stain depends upon the preparation of the surface. The wicker should be free of any existing coatings. Paints and varnishes will prevent the transparent wood stain from penetrating the wicker surface.
Transparent oil-based stain is a good choice if you are starting with unfinished, or "nude" wicker furniture.
Make sure the furniture is clean, dry, and free of coatings. Apply the transparent wood stain using a natural bristle paint brush. The stain is intended to penetrate the wicker's surface. It should not be allowed to puddle or create a surface film. In order to avoid over-applying the stain, back brush the wicker surfaces 15 minutes after the stain has been applied. During this time, the wicker should soak in as much stain as it will accept. Go over the surface with a dry brush or rags, removing any excess product.
A transparent stain colors the wood, but does not obscure the wood's natural grain pattern. A quality transparent stain should last between 1 to 3 years prior to requiring maintenance. Keep in mind that the stain's UV protection is derived from the pigment. The darker the stain, the longer it will last.
Take care when discarding of rags! Some oils are subject to spontaneous combustion. Make sure and follow the stain manufacturer's instructions when it comes to proper disposal of rags.
Semi-Transparent Stains
A semi-transparent stain is applied and performs similarly to the transparent stains. It is typically applied with a one-coat, penetrating-type of application. The primary difference between a transparent and a semi-transparent stain is the size of the pigment in the product, with the semi-transparent product having a larger pigment. The result is that the semi-transparent stain will obscure more of the wood grain. In addition, you can expect semi-transparent stains to last longer than transparent stains. A good quality, semi-transparent stain should last between two and four years before maintenance is required.
While transparent and semi-transparent stains require more routine maintenance than a solid color stain or paint, the nice thing about them is that the maintenance is relatively simple. When it comes time to restain, wash the wood's surface with a quality wood cleaner, allow it to dry and then apply a fresh coat of stain. There's hardly any need to sand or strip the wicker before restaining.
Solid Color Stain or Paint
Wicker furniture is often finished with paint that obscures the underlying grain of the furniture. With paint, you can choose whatever color you want. Assuming you've properly prepared the surface prior to application, a painted finish should last for several years before maintenance is required.
Because of the intricate weave and pattern of wicker furniture, finishers often recommend using a spray can, or a paint sprayer, in order to apply paint to the furniture's surface.
Proper surface preparation is essential to the success of any furniture finish. With paint, you will want to make sure that the surface is clean, dry and free of any loose coatings. If you are going over a previously stained surface with paint, remove as much of the old finish as possible. If you are going over a painted surface, make sure there are no peeling patches of paint. Sanding or scraping off as much of the old paint as possible is a good idea if you want to ensure a long lifespan from your coating.