Though often overlooked, filing cabinets are an office staple. They contain some of our most important documents while keeping us organized and efficient. They're immensely practical and endlessly useful – without them, we might be swimming in reams of paper. But when it comes to moving them from one place to another, well, let's just say they can be a prelude to a backache. Whether you're switching offices or getting repairs done, transporting a filing cabinet can be an arduous task, unless, that is, if you know how to release its cabinet drawers. Doing so is surprisingly simple and straightforward. All you need is a small window of time and – in some instances – a friend or colleague to help remove the drawers.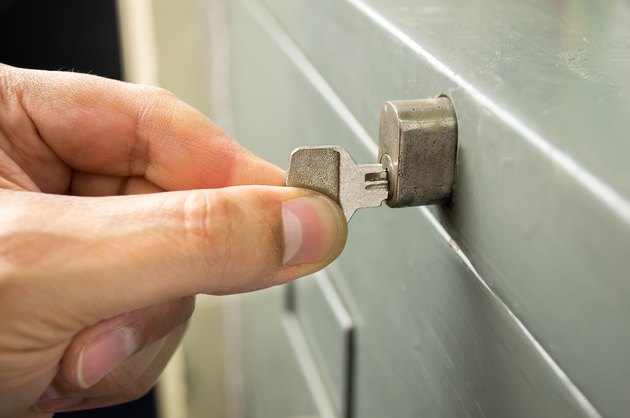 credit:
Manuel-F-O/iStock/GettyImages
In order to lighten your load, remove all contents from the top drawer and set them aside in an organized fashion. Next, remove the contents from all the other drawers, starting from the top and working your way down to the lowest drawer. Take out the hang rail bars and set them aside as well.
Open the drawer you'd like to remove to its stopping point and close all other drawers. Locate the "release tabs" on the sides of each drawer. They should be situated on the metal slide assembly, towards the back. Facing the drawer, place both hands on the tabs.
Push the tabs inward and gently lift upward while simultaneously pulling the drawer forward. This should let you pull the drawer all the way out and release it from the slide. Once the drawer is removed, you can release the tabs. Next, push the slides back into the vacant drawer space.
Position one hand on the outside of a drawer and push it inward, while lifting up on the bottom part of the drawer with your opposite hand. Pushing inwards and upwards should remove the drawer from the metal slide. If your drawer is being resistant, have someone assist you by using a flat-head screwdriver in the slide while you push in and up. Repeat the process on the opposite side while your helper supports the side that's already been released.
For a "Block and Rope" Assembly Cabinet
Use a Phillips head screwdriver to unfasten the two screws located on the inner back side of the drawer. This will detach the block connected to the rope, which functions as a portion of the cabinet's anti-tip mechanism.
Push the slides back into the empty drawer space, also called a carcass, and glide the drawer back into the slides. Test the drawer to make sure it's working correctly.