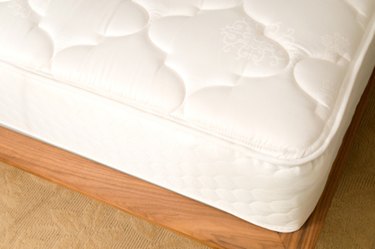 U-Haul offers trucks and trailers of various sizes to accommodate moving needs. However, the rental cost increases with the size of the vehicle. A small trailer is cost efficient when all you have to move is a queen-sized mattress and a few items. With some organization, and the help of a friend, you can place the mattress into the trailer comfortably. U-Haul provides open and enclosed trailers.
Step 1
Rent a U-Haul trailer that will accommodate your queen-size mattress. A queen size mattress is usually 60 inches wide and 80 inches long, according to the Sleep Better Council. A U-Haul trailer with a 5-by-8-foot space can accommodate this mattress.
Step 2
Strip the mattress of sheets and covers and place it into a mattress bag. If you do not have a mattress bag, then protect it with old sheets, blankets or tarpaulin. Place the covered mattress in a mattress box for further protection, if one is available. You can obtain a mattress box from a moving supplies retailer.
Step 3
Place the mattress flat on the floor of the trailer. This is the best position if the mattress has a pillowtop surface. If the mattress does not have a pillowtop surface, and the trailer is enclosed, then you can stand it on its side in a diagonal position. This position creates space for other items, especially those that must stand on a hard surface.
---
Tina Amo has been writing business-related content since 2006. Her articles appear on various well-known websites. Amo holds a Bachelor of Science in business administration with a concentration in information systems.