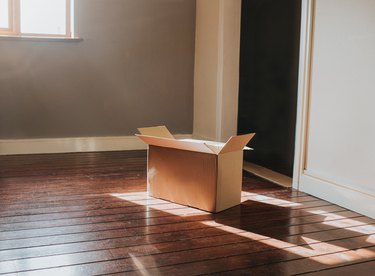 Whether you are relocating to another part of town or across the country, moving costs can add up quickly. "Moving costs can range from about $120 for a small local move using a rental truck to more than $10,000 for a cross-country move using professional movers," says Kurt Manwaring, a moving expert at Move.org. "Your biggest moving expense is the type of move you choose: rental trucks, moving containers, or full-service movers. But you don't want to forget about other costs that add up fast like packing supplies, hourly labor, or food and hotels."
Not sure which type of move is best for you and your budget? From full-service moves to rental trucks and moving containers, we asked Manwaring to break down the costs associated with each.
Full-service moves typically fall into three different categories, including local (under 100 miles), long-distance (over 100 miles), and international, and since the movers do everything for you — costs will depend on the size of your home, the services required, and the distance of your new location. "It's not unusual to pay upwards of $6,000–$7,000 for a full-service move," Manwaring says. "Full-service movers are easily your most convenient option — but they're expensive."
According to research from Move.org, a basic full-service move, with no professional packing involved, can cost anywhere from $550 to $2,000 for a local move, and $2,000 to $7,500 for a long-distance or international move. If you'd prefer to have your stuff packed up for you, you can expect to pay an additional $30 to $500 an hour, depending on the distance and amount of labor involved. "It comes down to what matters most: convenience or cost?" Manwaring explains. "If you have plenty of cash, full-service companies can save you a ton of work, regardless of how far you're moving."
If you're moving someplace locally and you're tight on funds, renting a moving truck or van, such as a U-Haul, is an affordable and readily available alternative to a full-service move. "DIY-style truck rental moves are your cheapest option because you do all the work," Manwaring explains. "It's a great choice for people on a budget, but it can also be stressful — you have to drive a big truck — and time-consuming."
Depending on the size of truck, Manwaring says moving truck rentals can cost as little as $120 for a local move, all the way up to $1,200 or more for a cross-country move, not including deposit, insurance coverage, and refueling fees. "Extra fees can add up quickly, especially if you're moving long-distance" he warns. For this reason, Manwaring says truck rental moves are best reserved for people who are just moving across town, not out of the state.
A hybrid between DIY rental trucks and full-service moves, Manwaring says that moving containers, such as PODS, are a smart idea if you're moving long-distance. "A moving container company drops off a portable storage unit at your home, and you fill it with your stuff," he explains. "Then the company picks it up and transports it to your new home, where you unload it yourself."
Since you'll be handling most of the heavy lifting, the price of a moving container move will depend on how many containers you need, how long you'll need them, and how far you're moving. "You'll typically spend about $3,000 for a moving container, although costs range from about $1,300–$5,400 depending on things like home size, distance, and time of year (it's more expensive in the summer)," Manwaring explains. You should also plan to pay anywhere from $30 to $500 extra if you want insurance coverage for your belongings. "Moving containers usually cost less than full-service moves, and eliminate the stress of driving a rental truck," he adds.