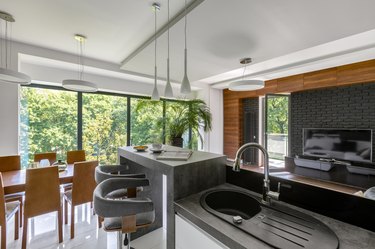 If you want to make the most of a smaller kitchen or maximize your seating options, putting a seating area at your kitchen counter can be a perfect option. If you're really short on space, they can replace a bulky kitchen table while still allowing you a place to sit and enjoy a meal with friends or family. But even in a larger kitchen, a set of stools can help make the most of your kitchen. It'll offer an alternative area to sit and to eat and gives a kitchen a more modern, streamlined look.
Stool Height Is Essential
The key to properly enjoying sitting at a counter is getting the right stools. The aesthetics of your seating is important — but far more essential is making sure you have the right size and bar stool seat dimensions. If you don't, the seating area will be uncomfortable to use and could end up neglected. So, here's what you need to know.
Bar vs. Counter Height
The most essential thing to consider when purchasing a set of bar or counter stool is the height of your counter. While most stools can be slightly adjusted, your counter height can't be. You need to ensure the stools you buy offer adequate legroom beneath the counter and can be tucked in neatly when not in use. According to Overstock, this means leaving at least 8 inches between the top of your stool and the bottom of your countertop. Finding an accurate bar stool height chart is key to ensuring you make the right choice.
Bar Stool Seat Dimensions
Generally speaking, a kitchen counter can range between 35 and 43 inches tall. If your counter is on the lower end of the height range (up to around 39 inches) you'll probably want a counter stool. If it's on the taller end of the spectrum, you'll want to opt for a bar stool. But there's more to consider than just height in terms of counter seating comfort.
You will also want to think about horizontal space. Bar stools tend to be more streamlined and, therefore, more seats can be squeezed in. Counter stools are more likely to have armrests and will require more room between them. You also want to make sure if your stool swivels that there's enough space 360 degrees around the seat.
Other Things to Consider
Alongside leaving enough leg and shoulder clearance around your stools, there are other things to think about before making a purchase. One important aspect is the counter space itself. If it's also home to your sink, stove top or other appliances, you won't want to squeeze in too many seats. Not only would this look busy, but it would have a negative impact on practicality too.
You may also want to think about backrests. While they do certainly make any stool more comfortable, they also make them much bulkier — so if you choose to go for them, you may wish to opt for fewer stools.
A final, and undeniably important, thing to consider when buying stools is their aesthetic. The whole point of optimizing your kitchen is to make the space look and feel more comfortable, so don't overlook the stool's appearance when making a purchase. Ensure it fits in with your kitchen's look and won't feel stark or out of place.