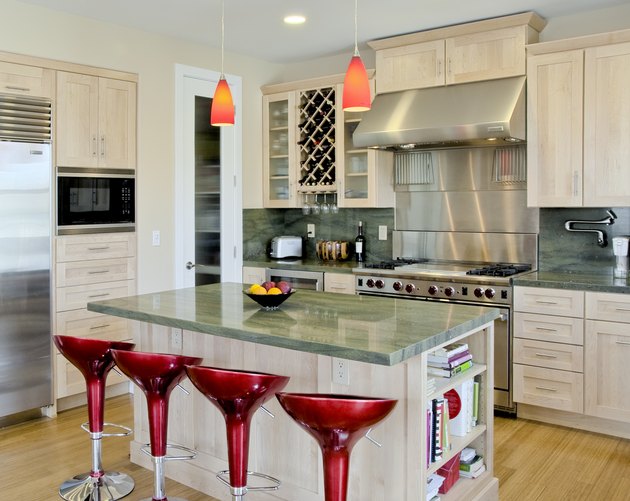 Even though the height variation between bar and counter stools is only a few inches, the difference in seat elevation has a significant impact on how comfortable you are when perched atop a stool at a kitchen counter or table. Both bar and counter stools are available in a range of materials, textures and colors to enhance your decor.
Raise the Bar
The height of a standard bar stool ranges from 28 to 30 inches, and is determined by measuring from the floor to the top of the seat. Bar stools are designed to accommodate a tabletop or counter that measures 40 to 42 inches high.
Consider the Counter
Counter stool heights typically measure 24 to 26 inches from the floor to the top of the seat. Use counter stools with a table or countertop that measures 36 to 39 inches high.
Go for the Comfort
For both bar and counter stools, leave a clearance of about 9 to 13 inches between the top of the countertop and the seat to allow plenty of room to sit comfortably without pressing your thighs against the bottom edge of the countertop. If you have swivel stools with armrests, allow for ample space between the stools to avoid bumping the protruding arms together when rotating seats.
---
Mary Cockrill's education and certifications in interior design and home staging have allowed her to author numerous home-related articles. Cockrill has been a top design consultant for a renowned home store and is the owner of Starwood Home & Gifts, LLC, an interior design, decorating and home staging business. She holds a Bachelor of Science in secondary education with a comprehensive major in office administration.