Things You'll Need
Original sales receipt for the sofa (if available)

Notepad

Pen
Tip
Take the cushion with you and look at leather cushions at local stores with large selections of home accessories. You may find something close enough to your original cushion at a fraction of the cost of a special order replacement.
Warning
Check the return policy. A replacement cushion is usually considered a "Special Order" and is not eligible for return or refund.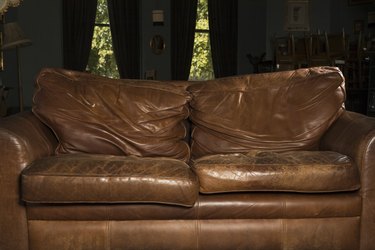 Leather sofa cushions add to the comfort and luxuriousness of the sofa but are vulnerable to wear and damage. Replacing them may present a challenge. For best results, order a matching cushion, or a least a cushion in the same size, color and style so that it goes well with the sofa. Do some detective work to increase your chances of finding an identical leather cushion for your sofa.
Step 1
Contact the manufacturer to get a matching cushion. If you aren't sure which brand the sofa is, check your original sales receipt for the manufacturer and the model number of the sofa. If this isn't available, pull the seat cushions off the sofa (if they come off) and check under them and in the creases under the sofa arms and back for a manufacturer's tag. The tag could also be underneath the sofa. Use a flashlight to check.
Step 2
Take a photo of the sofa if you don't find manufacturer's information and contact the original retailer. Furniture salespeople tend to recognize products they've sold and may be able to help you identify the sofa's model number and order the replacement cushion for you. Major manufacturers of leather furniture will replace individual cushions.
Step 3
Order a replacement cushion without the manufacturer or model number of the sofa, if necessary. It may not be possible to find this information due to the sofa's age. In some case the manufacturer may no longer be in business. Measure the length, width and dept of the cushion. Call local shops that make custom cushions. Retailers that sell foam often provide this service. Get some price quotes. A retailer with a large line of leather furniture may be able to help you find a close match and order one from a leather furniture manufacturer.
Step 4
Order the cushion and get an estimate of the delivery date. Even if you order it from the original manufacturer dye lots vary, as do the textures of leather. Consider replacing all the cushions. This way if they vary from the sofa color the result looks intentional.
---
Gryphon Adams began publishing in 1985. He contributed to the "San Francisco Chronicle" and "Dark Voices." Adams writes about a variety of topics, including teaching, floral design, landscaping and home furnishings. Adams is a certified health educator and a massage practitioner. He received his Master of Fine Arts at San Francisco State University.