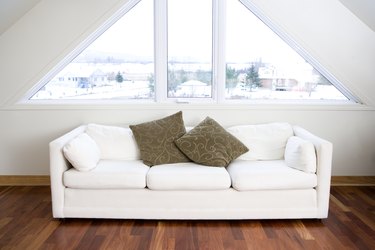 Determining how long a couch will be a valuable asset in your home comes down to the upholstery, cushions, springs, frame and the amount of TLC you are willing to give. Generally speaking, the more money you shell out, the longer the couch will stay in good condition – but this isn't always the case. The way you treat the newest member of your household makes a difference as well.
Average Life Expectancy
The typical couch should remain functional for 10 to 15 years, but one with inferior craftsmanship may wear out sooner. Couches that receive gentle or infrequent use potentially hold up for more than 15 years. Many furniture manufacturers offer 10-year warranties that guarantee against structural defects in the spring system and frame. To gauge the quality of a couch's hidden structure, find out how long the manufacturer covers the components. The most reputable companies with high-quality furniture offer limited lifetime warranties.
Actual Replacement Schedule
Most homeowners replace a couch before it completely caves in or collapses. The average person shops for a replacement every 7 to 10 years, but not necessarily because of structural problems. Even if a couch's frame and suspension are still intact, the upholstery may show signs of wear or the homeowner may simply want a new look. It is more common to start fresh with a new sofa than to reupholster existing pieces. Choosing leather, linen, canvas or microsuede rather than basic cotton or silk increases longevity.
Signs of Quality
Lightweight sofas typically have weak, wood-composite frames, while weighty couches possess tough-as-nails hardwood frames. If the manufacturer uses screws and glues in all the joints, the frame lasts longer than one with nonreinforced joints. Cushions stuffed with polyester and polyurethane typically outlast those filled with down or other feathers. A down-polyester combination is a viable alternative. Couches with hand-tied, eight-way coil systems won't sag for at least 10 years, while four-way coil systems droop sooner. Durable upholstery has the capability to survive 15,000 to 30,000 rubs before fraying, as measured by the Wyzenbeek fabric test. Check manufacturer code ratings for how a fabric can be spot-cleaned; avoid purchasing a sofa with an "X" rating, which typically indicates that the upholstery must be brush-cleaned.
Maintenance Tips
There is no need to treat your couch with kid gloves, but some routine care on a consistent basis is a good idea. Periodically remove the cushions and vacuum dirt or food out of the crevices; debris can rub the fabric and cause premature fraying. Check manufacturer guidelines for cleaning recommendations, as the type of fabric makes a big difference in the methods you employ. To protect the fabric from fading, use a slipcover or keep the couch out of direct sunlight. Use of a stain treatment increases longevity and improves appearance. Although the joy of jumping on a couch is sometimes irresistible, try to keep your kids – or yourself – from indulging in the practice.