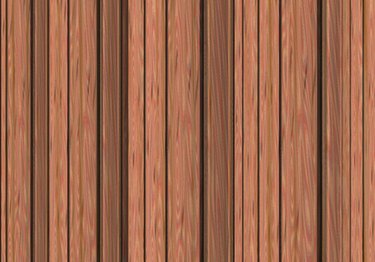 Waterproof panels are made from plastic or vinyl and are used to protect areas that commonly get wet such as bathrooms and exterior walls. In most cases it is possible to paint this plastic using a strict application method. However, all paints should be checked on a small area of panel before painting an entire wall.
PVC Panels
PVC is a common form of plastic used to make waterproof panels. The PVC is melted and formed to look like real wood. Usually the company that manufacturers the panels will offer several different finishes and colors. However, if you live in a house that already has PVC panels and you do not like the color, then it becomes necessary to paint the panels. PVC plastic can be painted, but there are a few tricks to it.
HDPE Panels
HDPE is another type of plastic that is commonly used to make wall panels. The panels are made in the same way as PVC panels with melting, molding and shaping. HDPE is also sold in a variety of colors and finishes, although not quite as many as PVC because it is a newer product. HDPE is used more often in industrial and commercial settings. If waterproof panels are located in your home it is likely that they are PVC plastic rather than HDPE. However, the painting procedure for both plastics is the same.
Preparation
Preparation is essential for a proper painting bond for any plastic and waterproof panels. The panels should be thoroughly cleaned with grease-fighting soap and sanded with a high-grit sand paper. The panels should then be wiped down with an acetone solution to get rid of any dust and grease. Immediately wipe the surface down with a clean, damp cloth to remove the acetone. Any acetone still on the plastic will cause adhesion problems. If this step is ignored the paint will not stick to the plastic and it will flake and peel away causing unsightly bubbles, flakes and scratches on the surface of the panels.
Painting
Once the surface is prepped, painting can begin. Use a paint that is designed for use with plastic. There are several forms of acrylic primers designed for use with plastic. You can also use an epoxy primer. Make sure the solution is water-based rather than oil-based. The paint can be applied with a roller or brush. A roller should only be used with flat panels and a brush should be used with panels that have ridges or grooves. Allow the primer to dry for 24 hours. Follow the primer application with an acrylic paint designed for use with plastic. Generally, this kind of paint will have ingredients that make it more flexible. Plastic paint comes in container or spray form. Either kind is equally effective at sticking to the paint. If the paint bubbles up, remove the paint and mix in some paint thinner with the primer; 5 to 10 percent thinner to 90 to 95 percent primer is a good ratio.