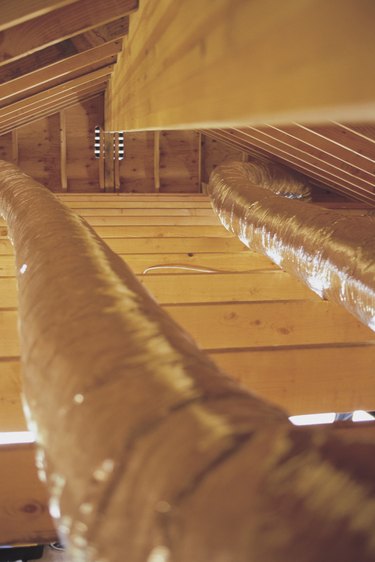 Attic space offers many options for building storage or living space, especially if you already have a well-built basic flooring in place. It's possible to create a solid floor without investing a lot of money. You can, for instance, use recycled materials. By building the floor with care, regardless of limited cost, you will have a solid base for installing finished flooring. You can add carpet, hardwood or tile over the floor in the future.
Future Concerns
Don't add flooring until you review wiring and plumbing needs for the future. Go into the attic to inspect how wiring is routed through joists or on top of them, for example. In the future, you may want to construct a small apartment or master suite in the attic. Build a new floor base with this in mind. You might choose to run all wiring straight through beams, so that you can install outlets or light fixtures in a relatively simple manner in the future.
Plywood or Particleboard
Find or buy 1/2-inch plywood or particleboard sections. It's possible to use other materials, but plywood or particleboard on sale is likely to be less expensive than other wood materials or products. Installing plywood, for example, will create a smooth floor to lay carpet in the future. It's possible to find plywood at closeout sales or recycled plywood in local classified ads.
Secure Flooring
Use an electric screwdriver to install the flooring base. While you can nail the flooring into place, a screwdriver will countersink screws and create a squeak-free finish. If plywood or particleboard is slightly warped, it may pull loose if you nail it down. Using a nail gun is no guarantee that boards won't pop up. Screws will hold flooring to joists more tightly.
Insulation Purposes
Don't skip the insulation in the floor. While you can get by cheaper by adding no insulation, there are two reasons to add insulation between floor joists. First, if you never build a room in the attic, the insulation in the floor area will save energy costs. Air from rooms below will not escape rapidly into the attic. Also, if you do build a room or rooms in the attic one day, the floor insulation will help soundproof the attic space.
Old Boards and Lumber
Using scrap lumber can work fine. Installing sections of plywood or old boards from demolished houses in combination can work. You can often get these types of wood for free by just hauling them off. If you ever need to cover them with finished flooring, you can always nail down another subflooring before installing tile or hardwood. Use old boards that are close to the same thickness in a given section of the attic however. You don't want lots of different floor heights, or walking in the attic will be difficult.