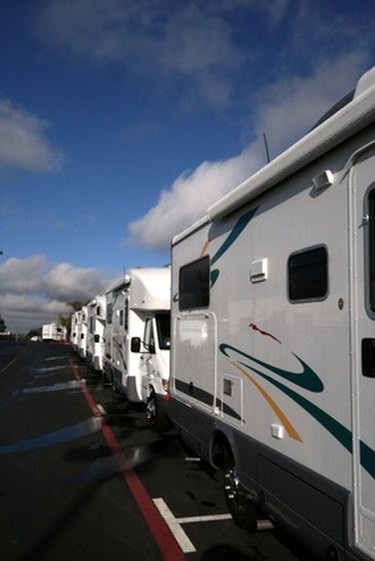 Rvs are designed to bring as many of the comforts of home to the road as can be easily transported in a motor vehicle or trailer. Floors are an important part of this. The constantly shifting nature of RV frames and sub floors can be tough on traditional glue and nail-down flooring. Laminate floors, with their floating installation procedures, are one solution. A floating floor requires no adhesives or fasteners and can shift with the constantly moving vehicle. Laminate choices range from wood grain to simulated ceramic tile.
Step 1
Pry base shoe or quarter round away from the bottom of the base board with a small, flat pry bar, preserving the face of the molding b y using the pliers to remove the nails from the back.
Step 2
Remove any carpet or glued down flooring and sweep and mop the sub floor. Put down a layer of vapor barrier and underlayment. Installation will be either a plastic sheet of vapor barrier followed with a layer of foam underlayment or a combined plastic and foam underlayment. Follow the manufacturer's recommendations for installation. In general roll out the material to cover the floor, butting pieces up to each other, cutting pieces to length with a utility knife.
Step 3
Lay laminate starting along the longest wall. Most laminates require space from the wall; check instructions on the box for specifics. Attach boards end to end and lay the first row using as many full pieces as possible. Measure the space for the last piece and cut a plank to fit, leaving adequate spacing against the wall.
Step 4
Start your next row with the cutoff from the first to stagger the end joints of the planks between rows. Attach the second row to the first following the installation instructions for specifics. Most floors lock together and require a tap from a rubber mallet to fit tight, or they have an adhesive strip that overlaps and must be pressed down for good attachment. Lay all the pieces and cut the last piece to fit as for the first row.
Step 5
Continue laying full-width rows as far as possible. Measure the distance from the last full row to the wall and cut pieces to width using a table saw or utility knife depending on the product.
Step 6
Make a template for any odd-shaped or sized pieces, or other work-arounds such as cabinets. Cut cardboard to fit the odd space, then mark the outline of the cardboard onto a floor plank and cut out the floor plank with a jigsaw or other cutting tool, depending on the flooring.
Step 7
Replace the base shoe or quarter round molding to cover the gap at the edge of the floor. Nail it in place with a hammer and one finish nail every 12 to 18 inches. Fill the nail holes with the appropriate color of wood filler or painter's caulk.